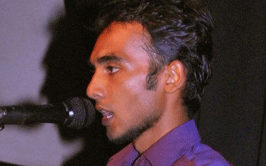 Suranjith Bandara
Former chairperson of student union of University of Kalania, Mr. Suranjith Bandara has been brutally attacked by politicl thugs in earlier today now on critical condition at Ragama Hospital, Inter University Sdudant Federation [IUSF] stated.
Accoding to IUSF covener Mr. Sanjeewa Bandara the former chairperson was attacked at about 2 a.m. today while returning to the university hostel after organazing a protest, followed by a remembrance programme for two studets leaders, Sisitha and Janaka, who had lost their lives on suspected road accident in same area in earler this year.

Mr. Suranjith Bandara was at about 2 km away fro the university when two political thugs armed with iron bars, attacked him, IUSF convener farther said.
The police media unit stated that they are investigating the matter but Kalania area is infamours for poliical thugs who attack opponants with political patronage.
LV