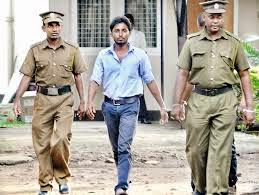 Inter University Students Federation (IUSF) Convener Najith Indika said student leaders were subjected to a witch hunt by the Government and this had led to the arbitrary arrest of former IUSF convener Sanjeewa Bandara. He was produced before the Kandy Magistrate and remanded till July 23 on charges of breaking bail conditions.
"Three of our student leaders visited the Peradeniya Police Station because we asked to make a statement after the university security personnel made a false complaint against us.
When we visited the Police station, the three leaders were arrested, produced in court and remanded till Monday 23 instead of our statements being recorded," he said.
Mr. Indika said the incident should not be seen in isolation but must be understood against the background of it being a systematic witch hunt of student leaders by the Government.
"The subject minister is hell-bent on pursing an agenda that is detrimental to students and the free education in this country," he said. (Sanath Desmond)