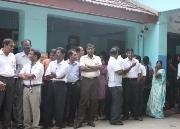 Jaffna doctors on stike
The planned token strike tomorrow(6) by 350 doctors in the Jaffna Teaching Hospital was cancelled due to an injunction issued by the Jaffna Courts, Member of the Government Medical Officers Association (GMOA) in Jaffna, Dr. Sai Niranjan said.

The injunction was issued by the Courts after the police had made a request to cancel the token strike scheduled to be held today (6) from 8.00a.m., to 8.00p.m.
The GMOA has also appealed to the Courts to remove the issued injunction. "It is only by going for trade union action that the ministry will be able to know the gravity of what is taking place in the hospital," he said.
According to Sai, this strike was organized in protest against the failure of the police to arrest those responsible for the 14 June attack on Dr. Nadaraja Jayakumaran's house, and the malpractices that are taking place in the administration of the hospital.
"We gave the ministry a period of two weeks to investigate the attack and to take action against those who are responsible for the attack, but a report has not been submitted yet, so we decided to launch a strike, but the police intervened and cancelled it," he said.
He also said the GMOA and doctors of the Jaffna Teaching Hospital had called for a temporary removal of the director and administrative officer, till police investigations are complete, as the suspects may tamper with evidence as long as they retain their positions, but the ministry failed to consider the request. Recently, the director made an irregular appointment by appointing a union medical officer who was in a lower rank than other OPD doctors.
The OPD doctors are also protesting against this new appointment. 200 doctors, 20 consultants, including the nurses union, paramedical union and the minor staff, signed a letter and dispatched it to remove the director from her present post and put an end to the corruption taking place in the Jaffna Teaching Hospital, he said.
The GMOA and the Branch office of the GMOA in Jaffna, will meet the Health Secretary on Monday (9) to discuss the present state of the doctors in Jaffna, and to request expediting the investigation on the assault on Dr. Jeyakumar.

By Azra Ameen (Ceylon Today Online)