Yesterday a small group of about 40-50 people belonging to all ethnic and religious backgrounds, gathered (whilst maintaining social distancing and wearing masks of course,) to tie cloths on the gates of the crematorium, in solidarity with our Muslim and Christian communities who have been forced to cremate their loved ones who have died due to COVID-19.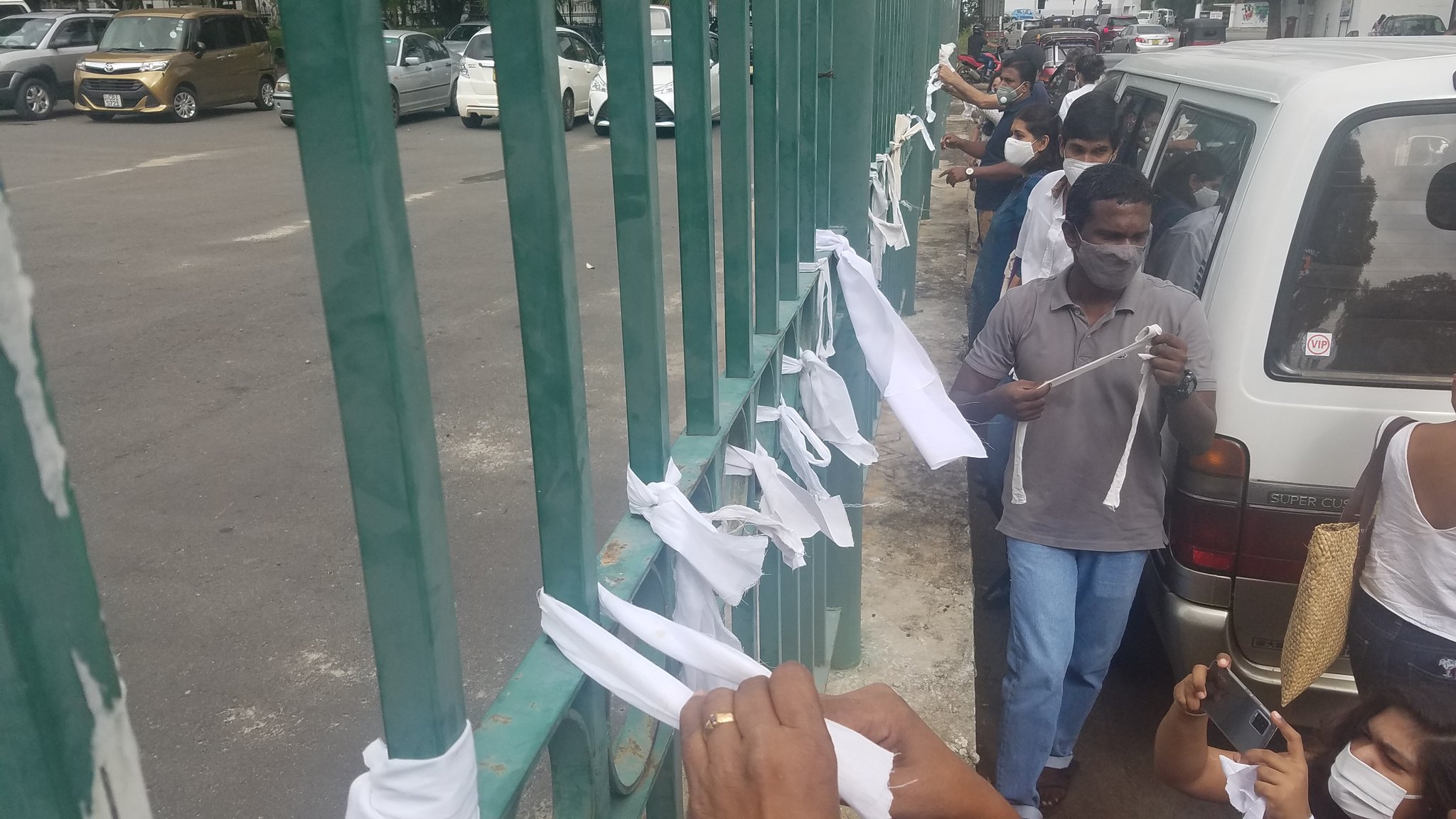 This was organised by the
Liberation Movement
outside the Borella crematorium gates, and the larger white cloth campaign initiated by members of the general public.
The gathering was attended by members of the general public, Catholic clergy and organisations working with Free Trade Zone (FTZ) workers in Katunayake. 
Yesterday gathering was one of many other peaceful demonstrations and protests, mostly led by women, carried out across the country, calling for the GoSL to #stopforcedcremations 
As the #stopforcedcremations protests are been held in different parts of the country many civil and political leaders have voiced their concerns about forced cremations.
Issuing a statement Tamil National Alliance said that " i
t is compulsory to arrive at a final decision with regard to the disposal of bodies of our Muslim brethren who die of COVID19 without delay. 
It appears that in the view of medical experts, burial of bodies would not result in any harm to others. It would also appear that in many countries the world over, bodies are being buried on the basis that no harm would accrue to any others. In the circumstances we state that it is obligatory on the part of the government to discuss this issue with the Muslim leaders and come to a reasonable and just decision without any further delay. The denial of the right of the Muslim people to dispose of their dead bodies in keeping with the tenets of their religion, is a violation of their fundamental right, and should not continue."

The Borella crematorium is particularly significant as it's the site where a
20-day old Muslim infant
was cremated recently, without the consent or knowledge of his parents. Since then, people have been tying white cloths on the Borella crematorium gates, both in memory of the baby and in solidarity with the Muslim community in particular. However, on the 14th of Dec. we were informed that the
Police had removed white cloths
from the Borella Kanatte crematorium gate, despite the Colombo Municipality having given permission for white cloths to be tied on the gates.
Despite WHO health guidelines, international virologists and 190 other Governments across the world permitting victims of COVID-19 to be buried, the Sri Lankan Government, in yet another racist move, is deliberately denying religious minority communities from practicing their basic religious and cultural burial rites. 
Voicing his concerns the former speaker Karu Jauasuriya tweeted:
Sri Lanka's anti-burial policy of Covid-19 bodies is against all international guidelines, including that of WHO. Expert virologist, Prof. Malik Peiris too showed the futility of this stance. Science must prevail, and the Muslims in Sri Lanka must be given a quick solution.

— Karu Jayasuriya (@KaruOnline) December 21, 2020