An STF deserter on Wednesday night killed father, mother and elder sister of his 19-year-old girl friend, Harshini Nirosha Satharasinghe, before shooting himself dead at Kotaweheramankada in the Hambegamuwa police area.STF deserter mows down girl friend's family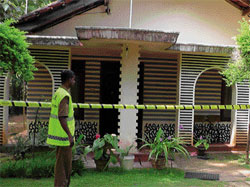 The scene of Wednesday's killings By Norman Palihawadana
An STF deserter on Wednesday night killed father, mother and elder sister of his 19-year-old girl friend, Harshini Nirosha Satharasinghe, before shooting himself dead at Kotaweheramankada in the Hambegamuwa police area.
The police identified the suspect as 22-year-old Nahalla Mudiyanselage Danushka Nuwan, a resident of Kotaweheramankada, Hambegamuwa.
The deserter stormed Nirosha's residence around 8. 30 p.m. and fired indiscriminately, killing Leelaratne (55), Malini (45) and Udeshika (24) and causing serious injuries to his girl friend. The police said that the deserter had had an argument with Leelaratne about an hour before the shooting incident for opposing his love affair with Nirosha.