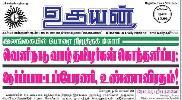 A stay order was issued by the Appeal Court today against the Jaffna Magistrate from taking steps to make the Editor of the Uthayan newspaper to apologize in court over an article which appeared in the Jaffna based newspaper, Uthayan Managing Director E. Saravanapavan said.

He said that the Appeal Court had found that the order issued by the Jaffna Magistrates Court was outside the jurisdiction of the court.
Uthayan Editor Thevanayagam Premananth was on Friday June 29 summoned to court by Jaffna Magistrate Manikavasagar Ganesaraja over an article published in the newspaper.
Premananth said he had not been charged with anything, and had instead been questioned on the article and asked to apologise in court, and to carry an apology in the newspaper as well. He also said that he had been 'humiliated' by nine lawyers who had also been present at the time.
The article in question reported that Jaffna Magistrate Ganesaraja had apologised to TNA MP M.A. Sumanthiran for certain statements the Magistrate had made about Sumanthiran in court.
Ganesaraja, however, has denied having apologised to Sumanthiran, and also said that the Uthayan article is 'wrong' and 'discredits the judiciary'. Furthermore, Ganesaraja claimed that the story was "one-sided" as it had not carried his response to the matter.
The Uthayan editor said that this was not true, as the Magistrate had been contacted before the article went to print.
TNA MP and Attorney-at-law, Sumanthiran had said that the judge did not have the authority to even summon a paper and demand a corrections and that if it is a contempt of court issue then there is a procedure to deal with that.
CG