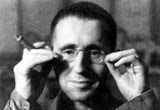 Bertolt Brecht
The state run weekend newspaper, 'Silumina'. has withheld its supplement 'Shasthreeya Athirekeya' this week, over an article on strong political undercurrents of Bertolt Brecht's stage plays.
The article, which was published as the cover story of the 'Shaasthriya Athirekaya', discusses as to how Bertolt Brecht's plays are of relevance to societies whose political bodies are characterized with hypocrisy, suppression and corruption. However, the article does not make any direct reference to the the government of Sri Lanka. Instead, it analyses the political realities of Sri Lanka in a much larger context, portraying it as a systematic breakdown of the entire 'system'.
The management of the newspaper has made an eleventh hour decision to hold back the supplement on the grounds that it would create a negative impression on the minds of the people about the present government. By the time the decision of made, supplement had already been distributed among agents of the newspaper across the country.
To cover up this move, this week's Silumina has carried a brief note to readers saying the supplement would not be published this week due to "technical difficulties".
Speaking to 'Asian Mirror, an editorial staff member of 'Silumina' said such decisions are no alien to state media apparatus of Sri Lanka.
Sundara Nihathamani de Mel, who was formerly the Editor in Chief of Sunday Lanka, presently acts as the Editor of 'Silumina. The supplement 'Shasthreeya Athirekaya' was re-introduced to the paper soon after he assumed duties as the Editor in Chief of the state run weekend newspaper.