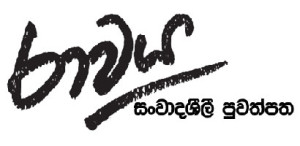 As you know by now, we as a group have been for the past two months campaigning to raise 20 million SL rupees (US $ 154,000 apprx.) to keep the "Ravaya" weekend Sinhala newspaper independent, the way it stayed over 25 years and, still better.

As most of you know, over the past 25 years, there were many efforts by numerous persons and organisations to serve the Sinhala readership with different and dissenting views through many newspapers, mostly tabloid, but none could survive for different reasons, other than State interventions and restrictions. Ravaya remained the only newspaper that grew into a broadsheet, starting as a tabloid and still maintains its independent identity, despite shortcomings and criticism. This gave Ravaya a large loyal readership among
opinion making social activists, academics, artistes and even among politicians.
The reason for our quick intervention was to stall the proposed 40 percent buy over by Milinda Moragoda for 20 million rupees allowing him to have 02 out of the 05 members in the Ravaya Governing Board. In consequence, we have agreed, that we would initially raise 10 mn rupees (US $ 77,000 apprx.) within 03 months and thereafter raise the balance 10 mn rupees for development of Ravaya as a very modern, sustainable professional media voice and improve its capacities and facilities.
In raising the monies necessary, we have decided to make every effort to have a very broad based ownership that allows the Ravaya readership and all others who value an independent media, to be contributors in raising the 10 mn rupees. They can credit their contribution(s) as individuals or as legally organised entities. An individual can make a maximum contribution of 500,000 (five hundred thousand) rupees, starting with just one thousand rupees even, while an organisation can go up to one million rupees.

These contributions would be the capital for the new company, we, here in Sri Lanka are in the process of legally constituting as "Ravaya Solidarity Pvt. Ltd." that would thereafter buy the 40 per cent of shares from Ravaya. This would also give Ravaya Solidarity Pvt. Ltd. to nominate 02 members to the 05 member Ravaya Governing Board.
We believe this to be a path breaking initiative in print media ownership in Sri Lanka and we wish you would join us in this effort.
We already have very committed, strong pledges that give us much encouragement. We also wish you as persons who are making your concerned voices heard loud and strong on democracy, plurality and issues of much concern, would join us in completing this fund raising campaign fast and soon.
You could at your earliest convenience, credit the account number 8180047738 in Maharagama branch of the Commercial Bank.