Image: Jaffna shut down in protest; credit Shalin.
Colombo, Apr 27 (PTI) All the major towns in Sri Lanka's war-ravaged northern and eastern provinces today observed a shutdown after the Tamil and Muslim political parties held a protest demanding the release of military-occupied land.
Offices, businesses, schools and public transport came to a halt after the two provinces observed a shutdown.
"We hope the government would respond after looking at this protest action. All Tamil and Muslim political parties in these areas are observing the protest," MK Shivajilingam, a hardline Tamil provincial councilor from the Tamil-dominated northern province said.
In some Muslim-dominated areas in the eastern province, life remained normal with all services operating.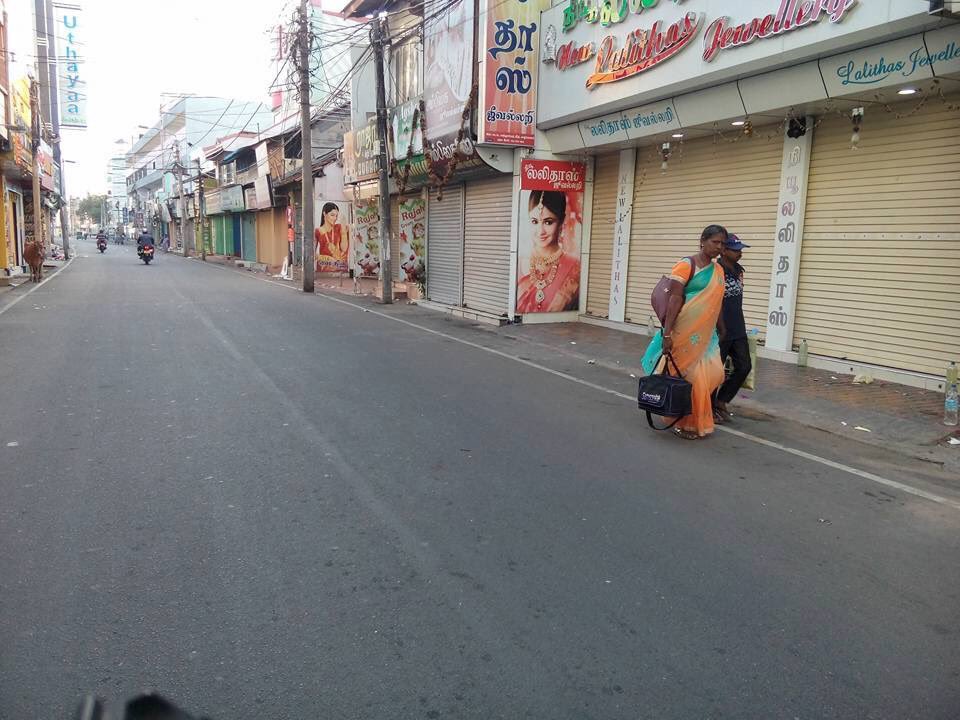 The Tamil and Muslim people in the North-East are demanding the government to release the lands that are still occupied by the military, justice to the disappeared persons and provide employment to the war-battered.
"People have been protesting now for over two months yet the government has failed to address the issue," Shivajilingam said.
Some of the lands held over three decades have been released since 2015. But Tamils complain of slow progress.
Commenting on the protest yesterday, government spokesman and Minister of Health Rajitha Senaratne said the relatives of the disappeared people in some cases had provided photographic evidence that they had been seen under government care since the end of the conflict in 2009.
"We will investigate such cases but we are unable to issue death certificates in respect of the disappeared as we have no proof," Senaratne said.
In August last year, Sri Lanka's Parliament has unanimously approved a bill to set up an office to help find some 65,000 people reported missing during the country's civil war with the LTTE (1983-2009), and clarify the circumstances under which they disappeared.
Relatives of the missing people had alleged that the Lankan state – particularly its army, navy and police – were behind most of the disappearances.
Many Lankan soldiers and LTTE cadres who had surrendered before the government troops were also among the missing.