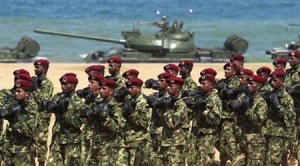 Sri Lankan commandos march during a rehearsal ahead of the War Victory parade in Colombo May 17, 2012. REUTERS/Dinuka Liyanawatte
Reuters/Reuters – Sri Lankan commandos march during a rehearsal ahead of the War Victory parade in Colombo May 17, 2012. REUTERS/Dinuka Liyanawatte
By
Stephanie Nebehay
|
Reuters
GENEVA (Reuters) –
Sri Lanka
is failing to investigate alleged atrocities committed by
government forces
in defeating a
Tamil insurgency
and activists and opposition politicians are still being killed or abducted, the
United Nations
said on Wednesday.
U.N. High Commissioner for Human Rights,
Navi Pillay
, called on authorities to allow international experts in criminal and
forensic investigations
to help resolve outstanding wartime crimes and end impunity.
"The steps taken by the
government
to investigate allegations of serious violations of human rights further have also been inconclusive and lack the independence and impartiality required to inspire confidence," Pillay said in a report on a U.N. mission to Sri Lanka in September.
Rights groups say the Sri Lankan military killed thousands of ethnic minority Tamil civilians in the shrinking territory held by rebels of the
Liberation Tigers of Tamil Eelam
just before their defeat in May 2009.
An expert panel set up by U.N. Secretary-General Ban Ki-moon, whose findings have been rejected by Colombo, has said the army committed large-scale abuses and that as many as 40,000 civilians were killed in the last months of the conflict.
Pillay said the government has not set up a mechanism to trace adults who went missing during the latter stages of the war and that investigations of disappearances had not led to arrests or prosecutions.
The commissioner, a former judge of the International Criminal Court, last month accused Sri Lanka of "gross interference" in the judiciary, saying its removal of chief justice Shirani Bandaranayake could jeopardize efforts to prosecute war crimes.
Sri Lanka has only committed to implement some of the recommendations of its own official investigation into the three-decade civil war, known as the Lessons Learnt and Reconciliation Commission, issued in late 2011, her report said.
President Mahinda Rajapaksa's
government
says it never targeted civilians. In written comments on Pillay's report, it complained of inaccuracies and said a court of inquiry would probe a video broadcast by Britain's Channel 4 television in 2009 purporting to show summary executions of Tamil prisoners by government soldiers.
Pillay voiced concern about the "transparency, independence and impartiality of this process, as well as for the protection of witnesses and victims".
RECENT ABDUCTIONS
"The period from the last quarter of 2011 to mid-2012 witnessed new reports of abductions and disappearances, including of political activists as well as politicians and their family members," her report said.
"During that period, there were also reported cases of abducted persons being found tortured and killed," it said, noting the government said the cases were being investigated.
Journalists and media institutions continued to be harassed and attacked last year, according to the report.
Government ministers had made "vicious public attacks" on Sri Lankan human rights activists who took part in a session of the U.N. Human Rights Council a year ago.
Sri Lanka is set to come under renewed pressure from the United States and other Western states at the Geneva forum's annual four-week session opening on February 25, diplomats said.
(Reporting by Stephanie Nebehay; Editing by Angus MacSwan)