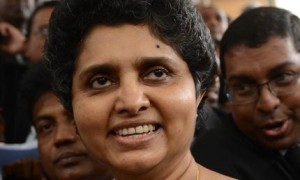 Sri Lanka's chief justice says it is illegal for politicians to investigate her and vowed she will defend herself against impeachment charges of professional and financial misconduct.
Shirani Bandaranayake, whose case has raised fears the government is trying to control the courts, told a parliamentary select committee there was not an "iota" of truth in allegations against her.

Bandaranayake, 54, the country's first female chief justice, said the committee had no authority to pursue the impeachment proceedings and called for an independent non-political panel to take over.
"The select committee has no jurisdiction to exercise judicial powers," Bandaranayake said in a leaked letter to the committee seen by AFP on Sunday.
"I request that an inquiry be held by lawfully appointed body consisting of eminent and independent persons not politically affiliated."
She described herself as a "fearless judge" and vowed to refute the 14 charges set out in the impeachment case.
A lawyer for Bandaranayake, who declined to be identified, confirmed the letter was authentic and said the chief justice was determined to clear her name following the impeachment case backed by 117 ruling party MPs.
Bandaranayake has been accused of failing to declare around $US250,000 ($A240,000) in foreign currency, among other alleged misdemeanours.
She said the money belonged to her sister, an engineer working in Australia who was buying an apartment in Colombo, and she also dismissed allegations she had hidden wealth in undisclosed bank accounts.
The government and the Supreme Court have clashed over the case, which human rights groups say is the latest sign of efforts by President Mahinda Rajapakse to tighten his grip on power after crushing Tamil rebels in 2009.
The Supreme Court irked Rajapakse last month with a decision that effectively scuppered a bill giving more powers to the economic development minister, who is the president's younger brother Basil.
The United Nations Special Rapporteur on the independence of judges, Gabriela Knaul, has urged Colombo to reconsider the impeachment.
Bandaranayake faced the first day of the closed-door hearing by the Parliamentary Select Committee on Friday. The next hearing has been scheduled for December 4.
SN