By Taylor Dibbert.
Sri Lanka's parliamentary election is over, and the results are in. By capturing 45.7 percent of the votes and 106 seats in a vote held on August 17, the United National Party (UNP) has narrowly won.
This is something of a defeat for Mahinda Rajapaksa, who was Sri Lanka's president until he was voted out in January 2015; he had hoped to make a political comeback and win the prime ministership. Rajapaksa and sitting President Maithripala Sirisena are both members of the Sri Lanka Freedom Party (SLFP), the dominant political party in the United People's Freedom Alliance (UPFA), a coalition that ruled the country for the past decade. Although Sirisena now officially heads both the SLFP and the UPFA, it was Rajapaksa who led the UPFA's parliamentary election campaign. The UPFA might have pulled in a smaller share of the vote than the UNP (42.4 percent), but all is not lost for the alliance, since it still won 95 seats and Rajapaksa has become a member of parliament.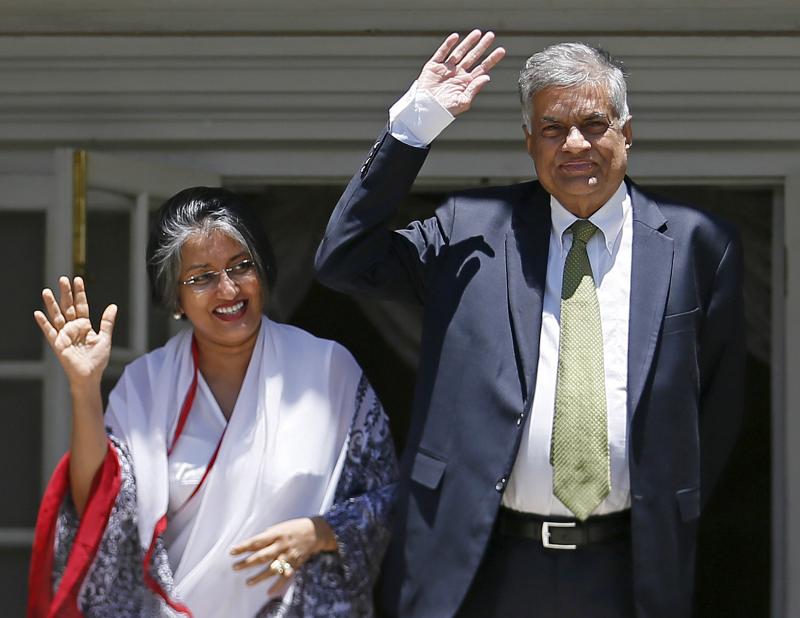 Still, the UNP lacks a simple majority, and the two major political parties, the UNP and the SLFP, are set to work together in a coalition government. Ranil Wickremesinghe, the head of the UNP, was renewed as prime minister. Sirisena, as president, would have kept his seat regardless of the parliamentary results.
As complicated as all this sounds, it could actually augur greater stability and more significant reform on the island.
EIGHT LONG MONTHS
The past eight months have proved unforgettable. In January 2015, Rajapaksa—who, as president, won Sri Lanka's 26-year civil war in 2009—was defeated in his quest for an unprecedented third term. His failure surprised many in the country and around the world, particularly because it came at the hands of Sirisena, a longtime member of the SLFP who had even held a cabinet position in Rajapaksa's administration.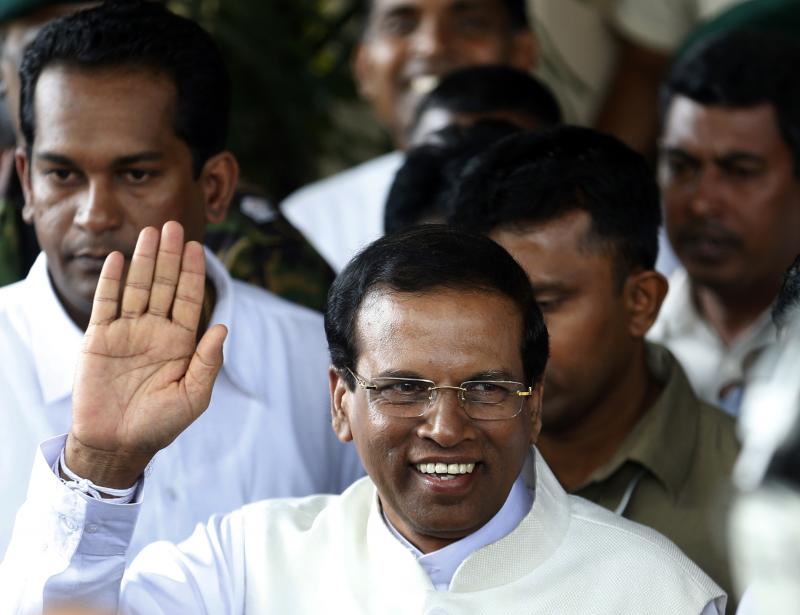 Sirisena promised to curtail the corruption, nepotism, and rising authoritarianism that had become hallmarks of the Rajapaksa regime; he also promised to abolish the executive presidential system and return the country to parliamentary democracy, which it had abandoned in 1978. From the start, though, Sirisena had trouble implementing his ambitious agenda, not least because many members of the SLFP and the UPFA remained loyal to Rajapaksa.
Yet he did immediately fulfill one of his promises, and that was appointing Wickremesinghe as his prime minister. Historically, the SLFP and the UNP have been rivals, but Sirisena had been helped in his quest for the presidency by scores of UNP voters, who were ready to back him if it meant getting Rajapaksa out. Sirisena's cabinet, moreover, was dominated by the UNP, even though the UPFA still held the majority in parliament.
Another notable achievement was the passage of the 19th amendment to the Sri Lankan constitution in April. This amendment essentially nullifies the 18th amendment, which was passed in 2010 under Rajapaksa and which eliminated presidential term limits and expanded presidential power. The new amendment brings back the two-term limit for the presidency and reduces some, although not all, of the powers of the executive presidency. It also increased the powers of the prime minister.
More generally, the Sirisena government could boast that, since Rajapaksa's ouster, it helped open up space for dissent, especially in the south. Private citizens and the media are far less reluctant to criticize government officials, including Rajapaksa and his family members. Likewise, the sharp reduction in attacks against religious minorities is another notable achievement.
RENEWED MANDATE
Still, there was a limit to how much Sirisena could accomplish without fresh parliamentary elections. And so Sirisena dissolved parliament in late June. It was commendable since the parliament could have run until April 2016, but still came several months later than he had initially promised.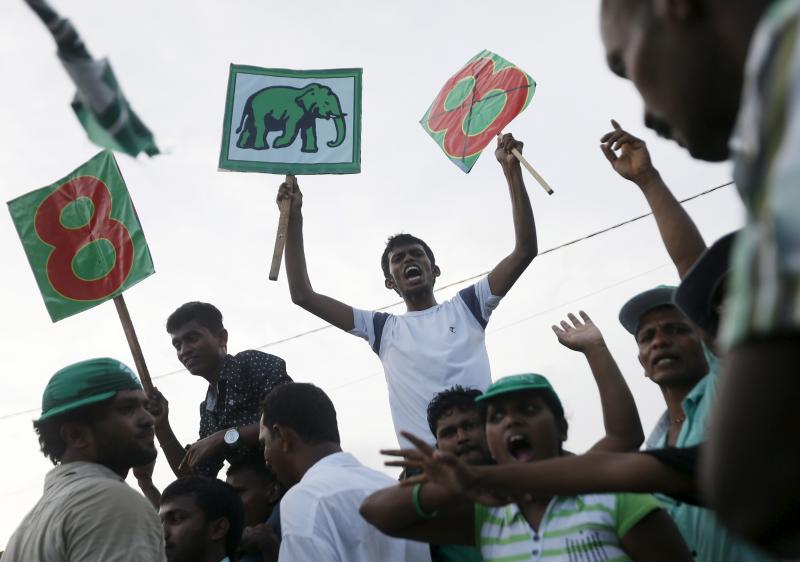 After all, the looming parliamentary vote put Sirisena in a difficult spot. He delayed dissolving parliament for several months in the hope of strengthening his position within the SLFP—which proved virtually impossible. Sirisena had already stated publicly that he would never appoint Rajapaksa as prime minister, but a UPFA parliamentary election victory would still have weakened Sirisena significantly and probably would have thwarted the implementation of future reforms.
In the event, the election results show that, although Rajapaksa still has some support, the country is prepared to move forward with reforms, to begin rooting out corruption, and to get on with the work of institution-building—all of which Sirisena was elected to spearhead. The results also signal that Rajapaksa's ability to capitalize on his wartime legacy and vitriolic Sinhala-Buddhist nationalism may be declining.
Although it is doubtful that the new government will move swiftly on any of these issues, it is at least promising that Wickremesinghe and Sirisena are publicly committed to reform. It is still possible, of course, for the former president to complicate efforts toward deeper reform—particularly when it comes to constitutional amendments, which require a two-thirds majority in parliament. By staying in active politics, Rajapaksa and his allies could also slow down some wide-ranging and ongoing corruption investigations. Rajapaksa's brand clearly suffered from extensive (and negative) media coverage over the past months.
Further, the UNP's parliamentary victory reflects the people's demand for more change and the continuation of a reform program that began in January. It thus opens the door to greater stability and the implementation of more meaningful reforms, although the road ahead is far from certain. "A lot is going to come down to the relationship between the president and the prime minister," Paikiasothy Saravanamuttu, executive director of the Colombo-based Centre for Policy Alternatives (CPA), recently stated. A case in point is the contentious issue of accountability for abuses during Sri Lanka's brutal civil war, which was was fought between the Sinhalese-dominated government and the separatist Tamil Tigers. The overwhelming majority of the country's population is ethnic Sinhalese; Tamil and Muslim people constitute the nation's two biggest minorities. The Sirisena administration has promised to create a "domestic accountability mechanism," yet it remains unclear what that means.
An organic and domestically driven accountability process, although still controversial within the country, is sure to receive more support than an internationally driven one, especially when it comes to the ethnic Sinhalese majority. Given Sri Lanka's culture of impunity and a history of commissions of inquiry that lead nowhere, though, ethnic Tamils are likely to reject a purely domestic process. Yet both the president and the prime minister have indicated that they support a domestic process, not an international one.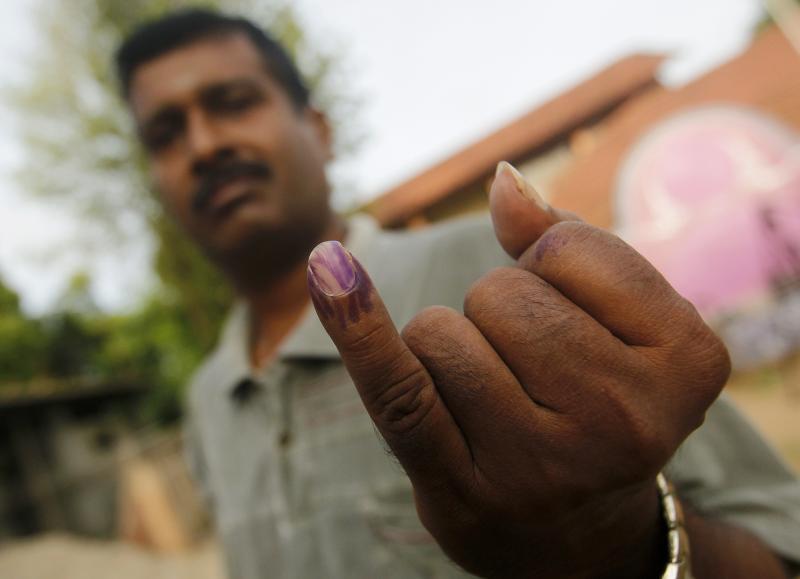 When it comes to a political solution to address long-standing Tamil grievances, both the UPFA and the UNP have indicated that a federal solution for Tamils is unacceptable. This does not go down well in the historically Tamil northern and eastern provinces, where most want a more comprehensive power-sharing agreement. On other crucial matters for the Tamil community, including demilitarization and the military's occupation of civilian land, Sirisena has not yet gone beyond cosmetic fixes.
Although it is doubtful that the new government will move swiftly on any of these issues, it is at least promising that Wickremesinghe and Sirisena are publicly committed to reform.
FOREIGN POLICY
The new government will also face challenges in foreign policy. The United Nations Human Rights Council has passed three U.S.-led resolutions against Sri Lanka since 2012. They were intended to promote reconciliation, human rights, and accountability in Sri Lanka, although the Rajapaksa regime rejected them outright. As part of the most recent resolution, in September this year, a highly anticipated report about wartime abuses in Sri Lanka will be released at the council's 30th session.
The report, which is expected to be highly critical of the Sri Lankan government forces and the Tamil Tigers during the war, will probably polarize the country, largely along ethnic lines. It will likely include evidence suggesting that both sides committed violations of international humanitarian and human rights law, including war crimes, during the final phases of the war.
Enjoy this free article from Foreign Affairs
All visitors get access to one full-length article each month. Register for free to continue reading.
A proposed fourth resolution on Sri Lanka is expected to be tabled at the council's upcoming session. Whether it is or not, keeping Sri Lanka on the council's formal agenda is important because it ensures that the controversial issues that have permeated Sri Lanka's postwar politics, such as accountability, devolution, and militarization, will continue to receive attention from the international community.
Meanwhile, since Rajapaksa's ouster, Washington has welcomed the Sirisena administration with open arms. The United States is particularly eager for friendly ties with the island nation, since Colombo grew quite close to Beijing during Rajapaksa's tenure. Sirisena has already shown signs that he would like bring balance to the country's foreign policy. Indeed, Colombo stands to gain from cultivating stronger ties with both Beijing and Washington. The United States will need to recognize that and strike its own balance between geopolitics and human rights. Washington should keep pushing for deeper reform, transparency, and accountability even as Colombo strives to maintain a good relationship with China. Even with Colombo projecting a more balanced approach to world affairs, China will likely remain an important part of Sri Lanka's foreign policy, particularly as it relates to infrastructure investment on the island.
This year has been an exciting and volatile one. The outcome of Sri Lanka's parliamentary election has notable implications for the country's domestic politics, the prospects for reform, and Colombo's foreign policy. Despite the welcome results, however, it is important to have realistic expectations about how many outstanding issues, especially war-related matters, can be tackled at once. No matter what happens next month at the UN Human Rights Council, reconciliation, justice, and deeper reform will come slowly and incrementally.