[China provided monetary assistance to build Sri Lanka's new Mattala Rajapaksa International Airport;File: EPA]
Island nation has received $4bn since 2009 and critics warn that could mean greater dependence on China.
Colombo, Sri Lanka – Since ending its civil war in 2009, Sri Lanka has become increasingly financially dependent on China, receiving an estimated $4bn worth of loans, grants and aid.
While government officials maintain the loans have brought to fruition much-needed infrastructure projects, opposition politicians warn the country is being led down a path of financial reliance on China.
Nearly 70 percent of Sri Lanka's infrastructure projects, including building a deep-sea port in the southern coastal town of Hambantota and an international airport in Mattala, are being funded by Chinese banks.
"Unlike the World Bank or IMF [International Monetary Fund], the Chinese banks are giving loans with no regulations attached," opposition politician Harsha de Silva told Al Jazeera, noting the government was being driven by its desire for quick cash without conditionality.
"If the government was to adhere to the conditions of the IMF or World Bank, many of the loans would not be approved."
While Japan remains Sri Lanka's largest donor, China's financial commitments to the island nation have increased dramatically in recent years.
The two countries have enjoyed cordial relations since 1971, with China providing more than $5bn in financial assistance since then – but the vast majority has been given following the end of Sri Lanka's conflict with the Tamil Tigers five-years ago
[
Lakshman Yapa Abeywardena, Sri Lanka's minister of investment promotion, denied that China was being given preferential treatment by the government, noting bilateral agreements were being signed with numerous countries.
"Japan is Sri Lanka's largest lender," he told Al Jazeera. "We recently signed a memorandum of understanding with the Bank of Tokyo-Mitsubishi to promote FDI [foreign direct investment] … Kuwait has also been targeted as another country which will give us financial assistance in our development projects."
China's interest in assisting Sri Lanka with its immediate construction projects has been a determining factor in signing agreements with the country, Abeywardena said.
Opposition politician de Silva, however, pointed out that China's loans come with far higher interest rates.
"In the first quarter of 2014, three major investment projects were signed with Japan, Kuwait and China. While Japan's and Kuwait's interest rates stood at 0.1 percent and 0.2 percent, respectively, China's exceeded 3.0 percent," he said.
China's economic role
"We are being forced to borrow money to repay the loans obtained from China," the politician said, citing the government's poor economic planning.
"The projects the Chinese have funded are not yielding the benefits the government had us believe."
MMC Ferdinando, Sri Lanka's secretary to the Ministry of Investment Promotion, said loans obtained from China were done at commercial rates, meaning a higher interest rate.
"The terms and conditions of our loans vary from country to country," he told Al Jazeera.
Civil Aviation Minister Priyankara Jayarathne acknowledged the newly built Mattala Rajapaksa International Airport earned revenue of only 16,000 rupees ($120) for the month of May, despite costing $209m plus interest to build.
De Silva criticised the airport project, noting construction jobs went to Chinese firms rather than locals, and the airport is barely functioning because the government failed to sign agreements with international airlines before commencing operations.
But the civil aviation minister Jayarathne defended the project saying, "It will take time for the airport to reach its full earning capacity."
While China's loans to Sri Lanka continue to increase, its financial aid and grants given are minimal compared to India, which has offered an estimated $348m of financial grants to the island nation over the past three years.
Despite wavering relations between the two South Asian nations, India's grants have been aimed at rehabilitating the ethnic Tamil minority – with close ties to India – who fought the Sinhala-majority government for nearly three decades.
In addition, Sri Lanka's exports to India have increased from one percent overall to six percent over the past five years, while exports to China remain stagnant at only 1.2 percent. At the same time, 16 percent of Sri Lanka's imports originate from China.
India's interests
Political analyst Shanaka Perera said China's financial expansion in Sri Lanka has less to do with developing the nation than with maintaining its own "string of pearls" – moves to increase Beijing's influence among countries surrounding the Indian Ocean.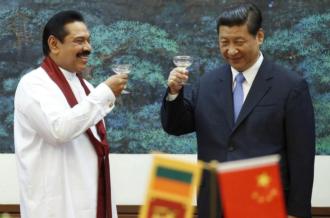 "China's projects in Sri Lanka have all been infrastructural and mostly coastal-based," Perera told Al Jazeera.
"The Hambantota port and Mattala airport would serve their plans for the region. It is expected that China will have unfettered access to these projects."
Opposition leader Ranil Wickremesinghe told parliament last month that the government had agreed to set up an aircraft maintenance centre on the east coast. External Affairs Minister GL Peiris acknowledged an agreement was in place for the Chinese to help build the facility.
According to Perera, such an agreement could cast a dark shadow over relations between India and Sri Lanka, as it would go against the principles of a 1987 agreement between the two countries that emphasised the maintenance of Sri Lanka's sovereignty.
"Sri Lanka has little to gain from its financial dependence on China," Perera warned, "but much to lose if the government is not careful."
Follow Dinouk Colombage on Twitter: @dinoukc
-Al Jazeera