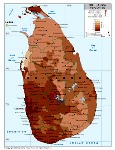 population dencity map
Population in Sri Lanka's northern Jaffna area has shrunk during a 30-year civil war but parts of the former war zone which was not fully under control of separatists had seen above average growth, new census data shows.The first census conducted in the area since 1981, has shown that the population of the Jaffna district, where ethnic Tamils form the majority had contracted at a rate of 0.74 percent to 583,017 from 734,474.
Sri Lanka's population grew at an average rate of 1.0 percent from 1981 to 2012 with the total reaching 20.277 million by from 14.846 million.
Mannar, also in the northwest saw its population shrink 0.2 percent to 99,063.
"It is evident that out-migration of those who have been displaced due to the conflict situation in those districts have been the reason for the observed reduction in population in those districts," the Census department said in a preliminary report.
Mullaitivu where the final battles with Tamil Tiger separatists had taken place had seen growth of 0.7 percent to 92,228.
Kilinochchi which served as the stronghold of Tamil Tigers for many years after they were driven out of Jaffna, taking part of the population with them, had also seen an increase.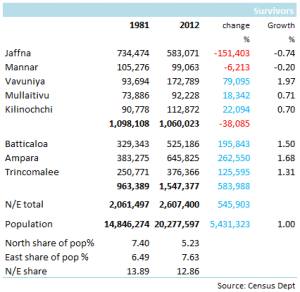 Vavuniya, which served as a frontier district with only a part of it under Tamil Tiger controlhad seen the fastest rate of population growth for any district at 1.97 percent a year.
The Census department said people displaced from other districts in the northern province may have settled in Vavuniya.
In the Eastern province, which was also partially under separatist control as it had large numbers of ethnic Sinhalese and Muslims population grew fast.
Ampara in the East had seen the second highest population growth rate of 1.68 percent a year from 1981 to 2012.
The population in Batticaloa grew at an average rate of 1.50 percent and in Trincomalee grew at 1.31 percent.
The share of population in north had dropped to 5.23 percent of the total by 2012 from 7.4 percent in 1981. In the east it had grown to 7.63 percent from 6.49 percent.
June 27, 2012 (LBO)