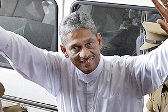 (RTTNews) – Former Sri Lankan Army Chief General Sarath Fonseka was released on Monday on presidential pardon after serving two years in jail. Before his departure to Qatar on Saturday, President Mahinda Rajapaksa had ordered the release of the former army commander, who was sentenced by a military court in September 2010 to a 30-month jail term on being found guilty of breaching arms procurement guidelines in favor of his son-in-law.

It was the second consecutive court martial in two months Fonseka was subjected to. The military court in August convicted him of dabbling in politics and stripped him of his rank and medals.
Fonseka was greeted by hundreds of supporters when he emerged from the high security Welikada jail on Monday, reports said.
He vowed that he would sacrifice his life "to serve the people of this country."
Fonseka, who had been Sri Lanka's Army Chief during the final three-year phase in the island-nation's civil war, was removed from the post after the mission was accomplished in May 2009.
He was later named Chief of Defense Staff, a largely ceremonial post. The top soldier resigned in November, accusing the government of sidelining him and of falsely claiming he was trying to stage a coup.
The four-star General was arrested two weeks after he unsuccessfully challenged Rajapaksa, who is also the Commander-in-Chief of the country's defense forces, in the Presidential election held in January 2010.
The Democratic National Alliance under the leadership of Fonseka fought the Parliamentary elections in April, but fared badly winning just seven seats. He was elected from behind the bars but not allowed to attend Parliament sessions pending his court martial.
by RTT Staff Writern