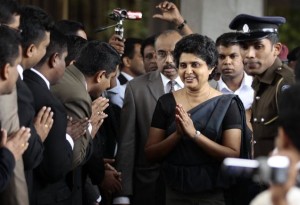 Sri Lanka's Chief Justice Shirani Bandaranayake. File photo
Hundreds of Sri Lankans hit the streets on Monday to protest against a parliamentary committee that ruled the country's Chief Justice is unfit to hold office because of unexplained wealth and misuse of power.
Opposition lawmakers, lawyers and rights activists joined the protest in the capital Colombo, demanding that the government halt an impeachment process against Chief Justice Shirani Bandaranayake.
The committee announced on Saturday that after investigating five of the 14 charges against Bandaranayake, it found she was guilty of three of them. Ms. Bandaranayake has denied all the allegations.

The ruling came after Ms. Bandaranayake and four opposition party members, who were part of the committee, walked out of the hearing, saying they had no faith in the fairness of the process. The other seven members of the committee come from the ruling party of President Mahinda Rajapaksa.
The protesters shouted slogans and displayed placards that read "Restore sovereignty of judiciary "and "Let's rise against this era of anarchy."
Trade unionist Saman Rathnapriya said the government had to withdraw the impeachment motion to "restore independence of judiciary and country's democracy."
Opposition lawmaker Tissa Attanayake said the impeachment motion was part of "the government's efforts to control the judiciary."
The committee said Ms. Bandaranayke had failed to declare 20 bank accounts, and had purchased a house on behalf of another person and then taken judicial control of several cases filed against the company that sold the property.
She was also found to have a conflict of interest because she has supervisory power over judges who are hearing a corruption case against her husband, a former state bank chairman.
Anura Yapa, a government lawmaker, who headed the impeachment committee, told reporters Saturday that Bandaranayke was found guilty of offenses "that warrant her removal from office."
The committee's report will be put to a vote when parliament reconvenes early next year. The result then goes to the president, who has the power to dismiss or retain the chief justice.
Besides criticism from Sri Lanka's legal community, the impeachment process has also drawn international concern, including from the United States.
Opposition lawmakers said the committee was not fair because the seven ruling-party members did not allow what they said were reasonable requests for establishing a procedure for the hearing or allow Ms. Bandaranayake access to a list of witnesses and a chance to cross examine them.
They said the committee gave Ms. Bandaranayake and her lawyers fewer than 24 hours to study 300 documents and prepare for her defence.
Lawyers and the opposition say the impeachment is an effort to undermine judicial independence and give more power to Mr. Rajapaksa, who effectively controls the 225-member Parliament with two-thirds of its members on his side.
Ms. Bandaranayake was appointed by Mr. Rajapaksa as the country's first female chief justice. She started drawing criticism from the government after she ruled that a law that gave vast powers to the economic development minister, the president's younger brother, was unconstitutional
The Hindu