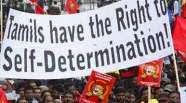 Diaspora demo
The Government has listed several groups operating overseas over their alleged links with the LTTE and terrorism, Government sources said late this evening. Defence sources said that at least 15 groups have been listed under a UN Security Council resolution and the names have been Gazetted. The listing has been done to curb funding for these organisations which operate as Tamil Diaspora organisations pushing for international action on the Government over alleged human rights abuses committed during the war.
Money laundering and funding terrorist activities are among the allegations raised against the groups which freely operate on foreign soil.
The move comes as most of these groups had been successful in their heavily funded campaigns to convince Foreign Governments to back a US sponsored resolution at the UN Human Rights Council in Geneva last week.
The resolution was adopted by the UN Human Rights Council and was welcome by the Tamil Diaspora organisations which pushed for an international probe on Sri Lanka.
The UN Human Rights Council was meanwhile informed by the Government that the LTTE was regrouping in the North under K.P. Selvanayagam a.k.a. Gobi.
In a right of reply at the 25th Session of the Human Rights Council, the Sri Lankan Governmeht had said that Gobi who had been overseas and returned to Sri Lanka, was actively involved in reviving the LTTE through regrouping LTTE cadres and recruiting unemployed local youth with the intention of using them for acts of terrorism.
The Government is meanwhile expected to issue a statement on the listing of the groups tomorrow (Tuesday). (
Colombo Gazette)