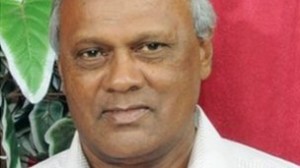 Ponnaiah Manikavasagam has reported for BBC Tamil for many years
Security officials in Sri Lanka have questioned a BBC Tamil reporter over phone conversations he had with two Tamil prisoners.
Anti-terrorist police summoned Ponnaiah Manikavasagam for questioning in Colombo on Monday, without disclosing the reason until he arrived.
He was not allowed to have a lawyer present during the interview.
It comes days after UN human rights chief Navi Pillay lambasted Sri Lanka for being increasingly authoritarian.

She also said that although she was allowed to travel freely during her week-long visit, the Sri Lankans who came to meet her were harassed and intimidated by security forces.
Sri Lanka dismissed Ms Pillay's comments as "prejudiced".
Sri Lanka is one of the world's most dangerous places to be a journalist. Earlier this year, Sri Lanka was placed 162nd out of 179 in a Press Freedom Index compiled by Reporters Without Borders.
Prisoner 'grievances'

Terrorism Investigation Department officials in Colombo questioned Mr Manikavasagam over phone conversations he had with two prisoners who are under trial and being held at Colombo's Magazine prison.
The prison is known for holding hundreds of Tamil prisoners suspected of links with Tamil Tiger rebels.
Human rights groups say these inmates are being held without due process and have called for them to be put on trial or immediately released.
Mr Manikavasagam told the officials that as a journalist he would receive calls from prisoners and their families. As many of these prisoners had been in custody for years, they generally discussed their grievances.
He said that he returned missed calls in accordance with his journalistic duties and that many people had access to his number.
He has reported for BBC Tamil for more than 15 years from northern Sri Lanka.
It is unclear if any case will be registered against him or if he will be summoned for questioning again. The authorities have made no statement about the case.
Sri Lanka's army defeated separatist Tamil rebels after a brutal 26-year war in 2009. It is the final phase of that war which has come under particular scrutiny as well as the government's rights record since then.
– BBC