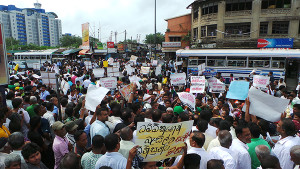 COLOMBO, Sri Lanka – Opposition and human rights activists in Sri Lanka demonstrated Wednesday to demand that the government punish those responsible for the military's killing of three civilians during a recent protest seeking clean drinking water.

About 1,000 people including opposition lawmakers, rights activists and journalists demonstrated outside the main train station in the capital, Colombo. They condemned the deaths of the three civilians and the military's attack on people seeking refuge in a church during the army crackdown two weeks ago in the town of Weliweriya, northeast of Colombo.
The Weliweriya protesters were accusing a factory in their neighbourhood of discharging chemical waste and contaminating drinking water. The military is also accused of assaulting journalists who were covering the protest.
Opposition lawmaker Mangala Samaraweera called Wednesday's demonstration the "first step of a series of protests against state terrorism."
President Mahinda Rajapaksa's government has come under heavy criticism for deploying the military to break up the peaceful protest on Aug. 1. Witnesses said dozens of people were wounded as soldiers shot indiscriminately and used poles to beat demonstrators.
Sri Lanka's Roman Catholic Church has accused the military of breaking into St. Anthony's Church in Weliweriya and beating people who sought refuge there.
Government ministers blamed a third party for instigating the protesters to provoke the soldiers, and said the troops acted in self-defence after being hit by rocks and gasoline bombs.
The government often blames unnamed third parties or foreign governments of being behind public protests.
The army has appointed a committee to look into the incident and report back in two weeks.
Rajapaksa told Weliweriya residents on Monday that he would either shut down or relocate the factory to an industrial zone.
Bharatha Mallawarachi, The Associated Press
WS