Sri Lanka soldiers prevented Tamils from accessing a temple where a special pooja was being held to celebrate Thai Pongal earlier today, whilst Tamil journalists attempting to cover the event were harassed and faced extensive security checks.
A special pooja was being held for Thai Pongal at the Rajarajeswari Amman Temple inside the Palali High Security Zone, with Sri Lankan Prime Minister Ranil Wickremesinghe, government minister Vijayakala Maheswaran and Tamil National Alliance MP Maavai Senathirajah in attendance.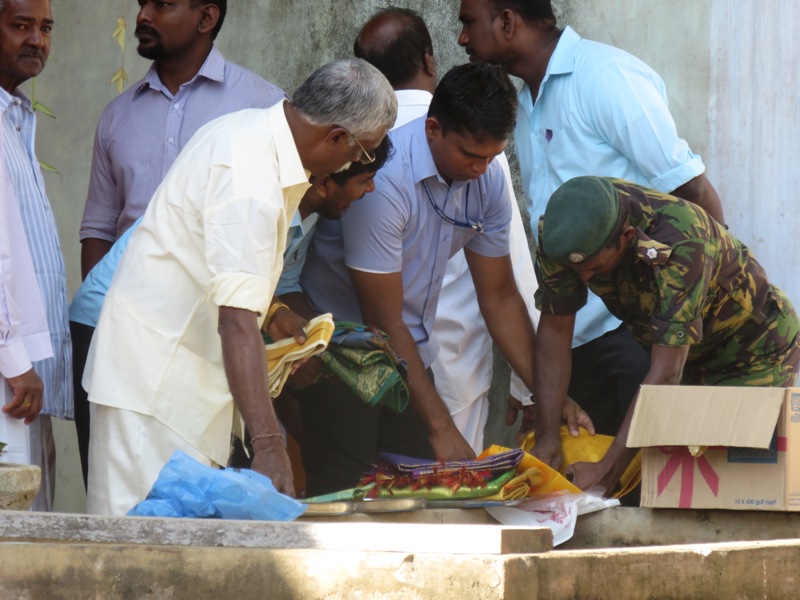 Though security had been ramped up in Jaffna over the preceding days with the military deployed across the region, in anticipation of Mr Wickremesinghe's visit, the deployment of soldiers marked a departure from previous high level Sri Lankan government visits, which saw only an increase in police numbers.
Whilst Tamil villagers attempting to access the temple site faced extensive security checks, Tamil journalists were initially refused entry to the High Security Zone with attempts made to seize their mobile phones. Meanwhile, media personnel from Colombo and the South of the island were reportedly ushered in through separate vehicles and faced no further security difficulties.
With crowds of people gathering at the temple hoping to celebrate pongal, the military denied them all access to the temple premises, where Mr Wickremesinghe reportedly prayed and received blessings.
After the ceremony, whilst media from the South were provided transport to the Veerasingham hall in Jaffna town where British Minister Hugo Swire was due to speak, the Tamil journalists were left to make their way to the venue by foot. As they walked out of the High Security Zone, the journalists were once again held by Sri Lankan troops who interrogated them further.
Once at the Veerasingham Hall, they were further impeded by the security forces, with members of the Presidential Security Division following the journalists at all times.
A journalist who did not want to be named told the Tamil Guardian that "media freedom was severely restricted."
"The security restrictions were not this tight, even when Mahinda Rajapaksa came to Jaffna.