Colombo, December 12 (newsin.asia): Noted Sri Lankan human rights campaigner Shreen Abdul Saroor, received the Franco-German Human Rights Award at a ceremony here on Monday in the presence of the Sri Lankan Minister of Finance and Media ,Mangala Samaraweera and the German Ambassador to Sri Lanka, Jörn Rohde.
The Franco German Prize for Human Rights and the Rule of Law is granted to persons who show significant engagement in the protection and the promotion of human rights and the rule of law.
Shreen is among 15 rights workers who received the award this year world-wide.
She has been specializing in women's rights and empowerment and engaged in reconciliation work between displaced Muslim and Tamil communities.
Speaking on the occasion, Minister Samaraweera said: " Shreen, you are an example not only to Sri Lankan women but to women and men all over the world. You have faced tremendous hardship yourself. Yet, you had the courage to use your personal adversity to reach out and help the most vulnerable in our society. Your courage and sincerity continue to help those who are most in need in our society."
"As a Sri Lankan, this is a proud moment for me as well to see your work recognised. You have touched the lives of so many, and what you have done, and continue to do, stands not only as a contribution to the citizens of Sri Lanka, but to all of humanity."
"Although the conflict is over, it will take years to heal the wounds, and it will take persistent effort to sustain and secure the gains that we have already made. The Government has the will and determination to face these challenges including gender-based violence, and promoting and protecting human rights for all, while working towards achieving equitable and inclusive economic development. Yet, Government alone cannot achieve all this."
"This is why I hope that the work that Shreen has done, and continues to do, will inspire more young people and more men and women to be engaged, and stand up for the rights of all. I wish you the strength to keep doing the great work that you are doing, and to keep on fighting the good fight."
"Being the leading Members in the European Union, Germany and France have become vanguard of universal human values. Your active interest encourages all of us to strengthen our efforts in preserving those common universal values at this time of populism and integration."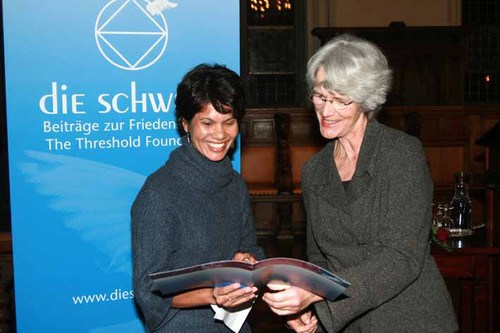 In 2011, Shreen had won the Peace Award in the category "Public Engagement" given away at a ceremony in Bremen.
Shreen is one of Sri Lanka's well-known women's rights activists who has repeatedly risked her life in the struggle for peace, human rights and reconciliation. She is especially dedicated to campaigning for disadvantaged women.
She has suffered the effects of war, death and displacement. As a member of the Muslim minority, Shrreen and her family were driven out of their home town Mannar in the north of Sri Lanka in 1990 by the Liberation Tigers of Tamil Eelam. The predominantly Hindu Tamil separatists were demanding an independent state in the north and in 1983 they began fighting against the government lead by Sinhalese Buddhists. The Tamil Tigers' defeat in 2009 marked the end of the civil war, but to date, Sri Lankan ethnic groups have not reconciled.
In 1998 Shreen gave up a successful business career in order to put all her energy into campaigning for peace and understanding between the different ethnic groups.
She is a passionate feminist having done Women's Studies as well as Business Administration. She campaigns first and foremost for women threatened by social exclusion. She encourages them to fight against discrimination and domestic violence, and to devote themselves to the reconciliation process.
In 1999, Shreen and her colleagues founded the Mannar Women's Development Federation, which not only helps women in more than 100 villages to lead a more independent life but also organizes the country's largest women-run microcredit program.
As one of Sri Lanka's prominent women's rights and peace activists, Shreen works in the conflict affected areas and is consequently exposed to great danger because the State still pursues and punishes dissidents.
Shreen has shown her ability to bring people together. Her contacts with national and international organizations have made her an important integrative agent for the human rights and democratic movements in Sri Lanka.
People at the grass-roots level are especially important to Shreen as they are at the heart of her work and the real reason for her courageous commitment.
(The featured picture at the top shows Shreen Abdul Saroor at the awards function attended be Sri Lankan Finance Minister Mangala Samaraweera)