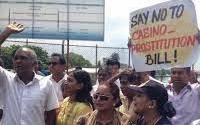 UNP supporters oppose casino bill
"The problem lies with not legalizing the casinos, but, with the government's secretive clandestine approach.
Sri Lanka may be heading in the wrong trajectory. It would soon become a mirror image of Cambodia, Packer's latest casino destination. Cambodia suffers an aggravated version of many of ailments that affect Sri Lanka: corruption, nepotism, bribery, a seedy government and the absence of independent institutions"
What is good in casinos? by Ranga Jayasuriya
An opportunistic protest campaign against an equally murky bill to set up three casinos has brought together strange bedfellows. Rubble rousing Buddhist monks of Bodu Bala Sena (BBS), Ravana Balaya and Jathika Sanga Sammelanaya on Wednesday met with the Maha Nayakas of the Asgiriya and Malwatta Chapters, the foremost Buddhist power centres of the country, to lobby for high priests' support to a campaign against the proposed casinos. The Jathika Hela Urumaya (JHU), a government constituent party has joined the ranks of their ideological pals and would likely to abstain from voting. Sarath Fonseka's Democratic Party and presidential hopeful, Maduluwawe Sobitha Thera, are also up in arms against the bill. To make matters worse, liberal pro-market main opposition, the UNP, too has jumped on the bandwagon. Opposition MPs and party supporters brought in several skinny old horses to a protest in front of a leading casino owned by Transport Ministry Secretary, Dammika Perera, in D.R. Wijewardene Mawatha, yesterday.
A legislation to grant approval to three mixed development projects valued as US$ 1.3 billion under the Strategic Development Projects Act was taken up in Parliament yesterday and the debate was adjourned for today.
Among the three projects are a US$ 350-million casino project by Australian casino mogul, James Packer, a US$ 300-million gaming facility called Queensbury by local tycoon, Dhammika Perera, and another venture worth US$ 650 million by local conglomerate John Keells Holdings (JKH). A previous gazette paper granting approval for those projects was withdrawn by the government last December after its constituent parties opposed the bill.
The previous notification provided scandalous tax concessions to Packer's Crown Resorts and the proposed gaming facility of John Keells. The contentious previous draft bill negated the very economic rationale for having casinos, which is, obviously, collecting a decent tax revenue, in the form of gaming revenue tax, income tax and other forms of tax.
Whereas in Sri Lanka, the two proposed casinos were granted a free ride.
The previous bill proposed a 10-year income tax holiday to Crown Resorts, after which it will be charged only 6% tax for a further 12 years. The Australian Finance Review estimated that the tax holiday would add up to US$ 1 billion.
Investment Promotion Minister, Lakshman Yapa Abeywardene, after withdrawing the bill said the government would come up with a new draft bill, which would slap a 5% gaming revenue tax on the casinos.
Again, in comparison to other international destinations, that is paltry little money.
Macao, the gaming capital of the East has a series of taxes totalling 39% of gross gaming revenue. Taxes from casinos contribute to 65% of the revenue of the special administration zone of Macao.
Singapore has a tax of 5% on gaming revenue for premium players and 15% on other players, a 6.5% Goods and Services Tax (GST) and a corporate tax at 17%. Gaming taxes account to 14% of the government's revenue in Singapore.
Las Vegas has a casino tax of 7.75% on gross gaming revenues and corporate income tax at 35%. The Nevada State Government gets 2% of its revenue from the gaming revenue tax.
Even in the Philippines, one of the new entrants in gaming industry, there is a 15% tax on foreigners, while locals pay 27% in Manila's Entertainment City.
Therefore, to suggest that those scandalously low taxes granted to three casinos were meant to lure the investors is humbug.
The problem lies with not legalizing the casinos, but, with the government's secretive clandestine approach. Sri Lanka may be heading in the wrong trajectory. It would soon become a mirror image of Cambodia, Packer's latest casino destination.

Cambodia suffers an aggravated version of many of ailments that affect Sri Lanka: corruption, nepotism, bribery, a seedy government and the absence of independent institutions.
An opaque tax agreement reached between Packer's casino, Naga World and the Cambodian Government allows Naga World to pay a fixed amount in taxes each month, with the company paying the Cambodian Government US$ 228,069 per month in gaming taxes and US$ 103,500 in non-gaming taxes.
That meant Naga World had to pay just US$ 3.98 million in taxes on more than US$ 96 million in 2011 earnings – an effective annual tax rate of 4.1% – significantly less than Cambodia's standard corporate tax rate of 20%.
Sri Lankan Government's secretive approach would make a repetition of the Cambodian plunder.
That is the real danger. Not the casinos.
However, the problem in Sri Lanka is that its Opposition law makers and nationalist clergies want to throw the baby with the bathwater. Both the Opposition and the Buddhist monks have bandied around slogans based on the culture and religiosity. The Opposition law makers, who protested yesterday perhaps deliberately, refrained from asking that the government reveals the proposed tax arrangement with the three casinos. Instead, they wanted to ban the casinos over antiquated cultural and religious reasons, none of which help improving the living standard of the country' s poor and of our women toiling in repressive Arab houses.
Sri Lanka as a nation suffers from a collective tunnel vision, which has impeded country's economic, political and social growth. In a country where the vast majority is suffering from the residual effects of a misguided 'revolution' in 1956, the politicians, even the most liberal and outward looking tend to appeal to the regressive populist impulses of the public. It is easier to rally local folks against Casinos because Buddha preached against gambling, than campaigning for transparency in the deal and a higher income tax revenue, which are on par with other destinations.
In the past, equally self-seeking and opportunistic reasons prompted successive political oppositions to rally against major developments projects, one of the most recent being the Colombo Port City.
But, the reality is that those massive investment projects have the potential to uplift the country's poor from their miserable existence. That is a miracle that the market capitalism with all its flaws, proved to be capable of delivering. It lifted 400 million Chinese from poverty and cut down national poverty rate there from 84% in 1980 to 13% in 2013. It transformed nations from South Korea to Taiwan to Singapore.
Sri Lanka's disastrous social experiment in the form of Swabasha education in 1956 and resultant intellectually penury meant that its citizens were largely detached not only from those dramatic transformations taking place in their neighbourhood, but also from the underlining economic and political philosophies. Sri Lankans evolved to think like Victorian women: poor but pure. They developed a tendency to reject many things which are progressive and liberating.
Casinos may not be the most liberating thing. But, a decent tax revenue that the government could collect from them, provided that there is a transparent deal, and associated economic multipliers, are something that makes any forward looking government wants to give it a try.
The political opposition should not squander that opportunity, rather they should make sure that the country gets the best out of it.