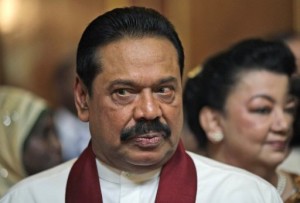 Add caption
COLOMBO (AFP) – Sri Lanka's president has scrapped a contentious code of conduct for journalists after editors and rights groups condemned it as a further blow to press freedom, government and media sources said Sunday.
President Mahinda Rajapakse ordered his information ministry not to proceed with the proposed code of conduct bill, but instead leave it in the hands of senior editors to update their own code of ethics.
"The government will not go ahead with the code," a senior information ministry official told AFP on Sunday.
"The president met with editors on Friday and discussed the issue. They may or may not use elements of our draft," he added on condition of anonymity.
An editor who was at the meeting told AFP that Rajapakse made it clear that the government would not impose the proposed code on them.
The Editors' Guild of Sri Lanka is to discuss the development and issue a formal reaction next week, the editor said on condition that his name was not used.
Sri Lankan editors as well as international rights groups had said that the proposed bill was too sweeping and would curtail freedoms already under threat in Sri Lanka which is emerging from decades of ethnic war.
The New York-based Human Rights Watch and the Committee to Protect Journalists last week accused the government of mounting more pressure on the local media through the proposed bill.
The new code drawn up by the information ministry sought to prohibit "material against the integrity of the Executive, Judiciary and Legislature".
It also warned against the publication of content that "offends against expectations of the public, morality of the country or tend to lower the standards of public taste and morality".
Sri Lanka had been ranked 162 out of 179 countries in a recent press freedom index compiled by the Paris-based Reporters without Borders and media rights groups say journalists have been forced to self-censor.

At least 26 journalists have already fled Sri Lanka in the past five years to escape threats, intimidation, violence, and imprisonment, according to CPJ. At least five journalists have been killed in the same period.