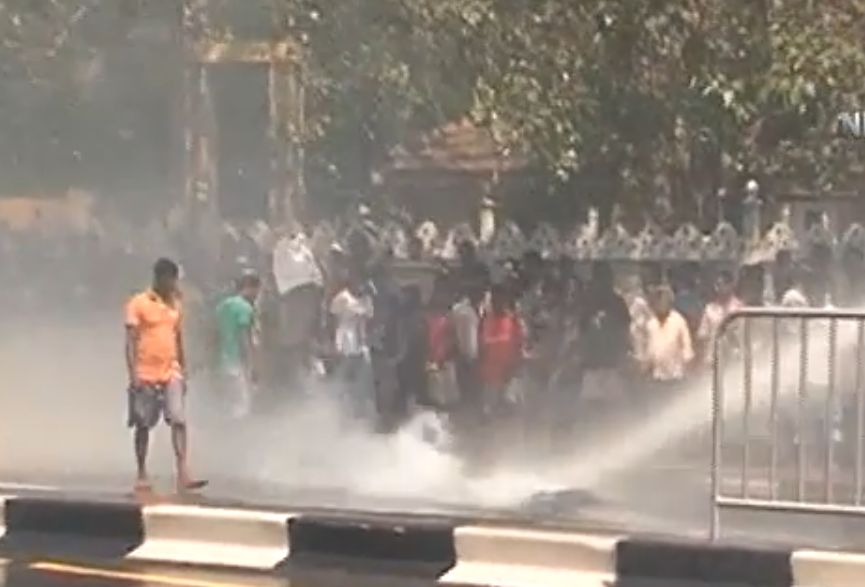 Protest against abduction met with force
A white van abduction has taken place this morning in the Wanathamulla area in Colombo. A resident from the Wanathamulla housing scheme, Sunil Aiya, was abducted this morning in a white van, a day after Defence Secretary Gotabhaya Rajapaksa and a senior Army officer had paid visit to him demanding that he vacates his residence.

Residents in the Wanathamulla housing scheme have posed a problem to the Urban Development Authority (UDA) under Gotabhaya since they have refused to accept the eviction orders issued by the UDA. The residents have instead resorted to legal action and have even taken the matter before the Human Rights Commission of Sri Lanka.
Gotabhaya and a senior army officer had visited Sunil Aiya yesterday and asked him to vacate the premises along with the others in the area.
Sunil Aiya has however refused to give in saying that none of the residents wanted to vacate their houses since there was no purpose in them giving up their houses to live in rented flats, which are not suitable for people to live in.
Following Sunil Aiya's abduction, the residents in the Wanathamulla housing scheme took to the main road protesting against the abduction and demanding the authorities to find him and bring him back alive.
Traffic on the Baseline Road was also affected due to the protest.
It is learnt that the authorities are trying to level various allegations against Sunil Aiya.
However, JVP politburo member K.D. Lalkantha who pledged support to the protestors said that people cannot be abducted according to the whims of some people. "There is a law in the country and if there is any issue, the law has to be applied," he said. He also called on residents in housing schemes in Colombo who face the threat of being evicted to join the Wanathamulla residents to protest to safeguard what is rightfully theirs.
LNW