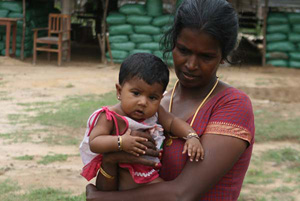 Thousands of civilians died in the conflict
Sri Lankan rights activists say the Defence Ministry report released on 1 August, acknowledging for the first time civilian deaths in the final days of the war, is a step forward, but caution that much depends on the government's next move.

"It's a step in the right direction, but a lot will depend on the next step by the government – whether it is willing to engage or whether it will harden its stance," Jehan Perera, director of the Colombo-based think-tank, the National Peace Council, told IRIN.
Thousands are believed to have died in the decades-long war between government forces and the Liberation Tigers of Tamil Eelam (LTTE), who had been fighting for an independent Tamil homeland since 1983.
According to the 161-page government report: "It was impossible in a battle of this magnitude, against a ruthless opponent actively endangering civilians, for civilian casualties to be avoided."
In releasing the report, Humanitarian Operation Factual Analysis July 2006-May 2009, the government believes it will finally quash allegations of abuse during the final stages of the war.
"I sincerely hope that with the publication of this document, these falsehoods will be laid to rest once and for all, and that the world will see, beyond any doubt, that the humanitarian operation was just," Defence Secretary Gotabaya Rajapaksa said at the presentation ceremony.
The report analyzes the events of the war and denies allegations of human rights violations by Sri Lankan troops.
With this report, Perera believes the government has shown at least some willingness to address allegations of war crimes: "It has now put out its position formally."
But according to Paikiasothy Saravanamuttu, executive director of the advocacy body, the Centre for Policy Alternatives (CPA), the report fails to mention what action the government plans to take next.
"There is no indication that they plan to do anything about the contents," Saravanamuttu said.
Others believe the government could harden its stance if the report is not accepted by international critics.
On 1 August, Human Rights Watch issued a statement describing the report as a "whitewash".
"Most would want a more elaborate acknowledgment of what happened during the war and since [than what is in the report]," Ruki Fernando of the Colombo-based Law and Society Trust said, noting the government had been selective in its analysis and choice of incidents examined.
"It also lacks a historic perspective as to why there was a war in the first place," he added.
The decades-long war ended in May 2009 after a final offensive that saw tens of thousands of people killed in just a few months, according to estimates by a UN expert panel report in April.
According to the 196-page document, both government forces and the LTTE conducted military operations with flagrant disregard for the protection, rights, welfare and lives of civilians and international law during the final months of the war.
ap/ds/mw