The Foreign Office says Sri Lanka must give a serious response after "horrific scenes" and "convincing evidence of violations of human rights law" were broadcast last night on Channel 4.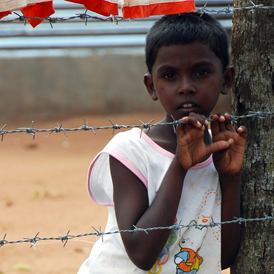 The film 'Sri Lanka's Killing Fields' documents the final bloody weeks of the Sri Lankan civil war – in which at least 40 000 Tamil civilians were killed. An hour long, it features new evidence of war crimes and crimes against humanity.
The footage shows apparent extra-judicial massacres of prisoners by Sri Lankan government forces, the aftermath of the shelling of civilian hospitals and the bodies of female Tamil fighters who appear to have been sexually assaulted.
New footage broadcast in the documentary, allegedly captured on a mobile phone by a soldier as a trophy video, shows three people, including one woman being executed. A man tied to a coconut tree was also killed.
The documentary also examines the atrocities carried out by the Tamil Tigers, including the use of human shields, and footage depicting the aftermath of a suicide bombing in a government centre for the displaced.
Foreign Office Minister Alistair Burt said he was "shocked" and urged the Sri Lankan government to investigate allegations that war crimes were committed.
"The recent UN Panel of Experts' report, this documentary and previously authenticated Channel 4 footage, constitutes convincing evidence of violations of international humanitarian and human rights law. The whole of the international community will expect the Sri Lankans to give a serious and full response to this evidence," Mr Burt said.
"Since the end of the conflict the UK has called for an independent, thorough and credible investigation of the allegations that war crimes were committed during the hostilities and the UK Government expects to see progress by the end of the year. I reiterated this message to the Sri Lankan Foreign Minister on 14 June," he continued.
Watch: Sri Lanka's Killing Fields on 4OD
He added that if the Sri Lankan Government refused to investigate, the international community will "revisit all options available to press the Sri Lankan government to fulfil its obligations".
The Sri Lankan High Commission in London has denied it targeted civilians while crushing Tamil Tiger rebels, but said action would be taken if any allegations of atrocities were proven to be true.
It said images shown in the documentary had not been verified as genuine and the disturbing footage could cause hatred among Sri Lankan communities.