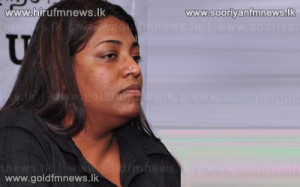 FMM Press Release/18.09.2013
Senior journalist and Co-editor of the Sunday Leader newspaper Ms. Mandana Ismail Abeywickrema fled Sri Lanka to a North American country on 17th September 2013, according to reliable information received by the Free Media Movement (FMM). Her journalist husband Romesh Abeywickrema, the editor of the business section of Sunday Leader and their 12 year old daughter too has left the country.
Since 2005 when the last phase of the war started more than 80 journalists have fled Sri Lanka and Mandana Ismail is the latest victim of continuing war against journalist in Sri Lanka.
large number of media workers including journalists have been killed, abducted, assaulted, media institutions have been set on fire during since 2005 but no killing, abduction, assault or arson has been investigated and no perpetrator has brought to justice.
An armed gang which included former army personal broke into their home on the 24th August at night and spent nearly 3 hours going through their files looking for some documents. After failing to find the documents they were looking for the gang had threatened that they will have to abduct Journalist Mandana Ismail. But timely arrival of police on a tip off prevented them executing there threat.
Two weeks later on the 8th September, an unidentified gang had broken into her house again to take away computers.
Speaking to media journalist Mandana Ismail expressed her suspicion that police is trying to cover up the real reason behind the so-called robbery.
She had received several death threats after she raised her suspicions that the gang was not looking for valuables but for some documents. She and her family lived in hiding, moving from house to house since the break in burglary of her residence.
Meanwhile the leader of the opposition Mr. Ranil Wickramasinghe told the parliament that Mandana Ismails's residence was robbed to take away or destroy some documents related to an illegal deal made between a young politician in the "top brass" and the Indian "Krrish" company.
FMM calls on Government of Sri Lanka to end the impunity which has become the shield for attacks against media and journalists in Sri Lanka and bring all perpetrators to justice. FMM reiterate it's request that Government of Sri Lanka should invite the United Nations Special Rapporteur for Freedom of Expression Rights to vist the country in order to obtain help to speed up these investigations.

Sunil Jayasekera, Convener, FMM