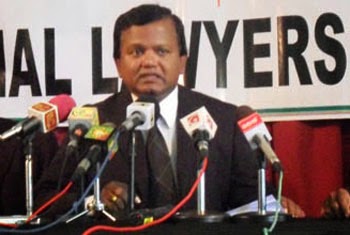 P

resident of the Sri Lanka Bar Association Upul Jayasuriya has lodged a complain at the cinnamon garden police saying a group of unindentified people who came in two motorcycles and a three wheeler followed his vehicle today.
Jayasuriya has told the Cinnamon Garden police that the incident posed a threat to his personal security. A spokesperson from the police department told Asian Mirror that they were investigating into the incident.
Speaking to Asian Mirror Jayasuriya said they were following him from Hulftsdorp to flower road this morning. He also raised suspicion that the incident had something to do with the recent statement The Sri Lanka Bar Association made on the ban on non-governmental organizatons operating in Sri Lanka.
He also said he was of the belief that the police would conduct an imoartial inquiry into the matter and ensure his security.
Jayasuriya in his capacity as then president of Sri Lanka Bar Association, was strongly critical of the government in the recent past. At the same time he critisized the conduct of BBS, a hardcore Sinhala-Buddhist organization saying they had taken the law into their own hands.
Upul Jayasuriya became the president of Sri Lanka Bar Association replacing UNP Parliamentarian Wijayadasa Rajapaksa