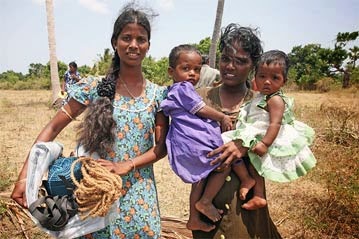 Women in North ( file photo)
The United Nations (UN) says based on available research nearly 40% of women in former conflict zones in Sri Lanka feel they are not safe at home even after the war.
The United Nations Population Fund country Representative in Sri Lanka Alain Sibenale said this at an event held at the British High Commission in Colombo today to mark the conference being held in London against sexual violence in conflict.
He noted that one of the reasons women feel unsafe is because of the militarization of the North and East.
Meanwhile the British High Commissioner to Sri Lanka John Rankin said that no country can say they protect human rights and ignore addressing sexual violence in war. (
Colombo Gazette
)