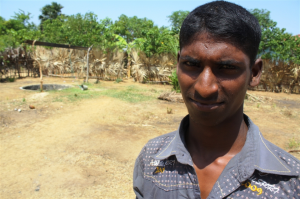 A young man looks to the camera in Jaffna, .
Finding paid work – especially for youths – is still difficult in Sri Lanka's former conflict zone in the north even after three years of peace and massive infrastructure projects, experts say, pointing to the region's anaemic private sector as a main cause.
Although official employment data for the region is unavailable, experts in the area estimate that up to 30 percent of the north's population is unemployed, as opposed to a national rate of 4 percent. Based on the most recent census in 2001, 28 percent of the country's population is between the ages of 10-24, and there are some 280,000 youths in the former war zone, according to a 2012 government estimate.

Most people who work in what is known as the Vanni – which includes the districts of Kilinochchi and Mullaitivu plus parts of Jaffna, Vavuniya and Mannar – do so only sporadically, according to a March 2012 report released by the government, UN Children's Fund and the World Food Programme.
"Daily labour was the most common income generation activity [when the study was conducted], this being the main source of income among 37 percent of the population," it said.
The main problem is a near non-existent private sector there, said Muttukrishna Sarvananthan, the principal researcher at Point Pedro Institute of Development, based in Jaffna District.
"[The] bulk of the development activities are large-scale public investments in infrastructure… employing skilled and semi-skilled labour from the south, as well as under-employed Sri Lanka Army personnel."
Private companies have reported a "wait-and-see" strategy on investing in the north, still viewing it as a risky frontier, given the shortage of skilled workers, lack of investment incentives and unknown returns.
Sivathambu Navarathanaraja, secretary of the Kilinochchi District Chamber of Commerce, Industry and Agriculture, said while government and humanitarian agencies provide vocational training and other assistance like farm equipment and seeds, youths in the Vanni still struggle.
Few companies in north
Only a few companies have ventured into the region. Cargills Ceylon, a large supermarket chain and agriculture processing company, is building a beverage processing plant in Ariyar Nagar village in Kilinochchi District, while there are plans to set up a garment factory with assistance from the US Agency for International Development (USAID) in the same area.
"There is very little by way of companies setting up operations here. For most who get training the best option is self-employment or leaving the region," Navarathanaraja said, though Anushka Wijesinha, an economist at the quasi-government think-tank Institute of Policy Studies (IPS) in the capital, Colombo, said there is not yet a noticeable trend of youths leaving the north.
The risk is real, said Navarathanaraja, given that job creation is likely to be "painfully" slow.
Even though the Northern Province's economy grew by 27 percent in 2011, according to the Central Bank, this has translated into few new jobs, said Sarvananthan and Wijesinha.
Both attributed the spike to the region's large-scale infrastructure projects and low starting point following a decades-long conflict. Fighting peaked in early 2009 before the government declared victory in May that year.
Sarvananthan said infrastructure investments can create jobs, but only if they are labour-intensive due to the local population's scant formal education following the war. "It would have been prudent to deploy labour-intensive infrastructure construction methods as opposed to the current heavy machinery-intensive construction methods in order to generate large-scale employment opportunities."
The government's infrastructure investment preference nationwide is machinery over people in the belief this method is quicker and more cost-effective.
"Unleash" private sector
IPS's Wijesinha said more incentives should be given to local investors in the Vanni. "Rather than waiting for big investments into the former war areas from outside the region or outside the country, which may naturally take longer, what is needed is to unleash the potential of the local private sector, ease their constraints and help them invest and grow," he said.
Vishu, a 32-year-old unmarried man from Kilinochchi, who preferred to go by one name, said he had tired of looking for work and left for the south 15 months ago, where he now works in a small grocery shop on the outskirts of Colombo.
"I make a decent income, which I would not have been able to do had I remained in Kilinochchi," he said. Vishu earns about US$150 monthly, while the national mean income in 2009-2010 was around $279.
He said many youths and young adults who belong to the Tamil ethnic group and primarily live in the north are not able to speak the language of the country's largest ethnic group, the Sinhalese, which leaves them with limited job options.
"Not many in my village speak Sinhala or English. Without them you will be lost in Colombo."
Photo© Contributor/IRIN
IRIN