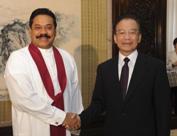 MR with Chinese PM
Sri Lanka will borrow more than $1.12 billion from China under concessional terms for a new port and railway construction, the government said on Friday. The $59 billion economy has been increasingly relying on China for financing and expertise required for its post-war rebuilding plans. The island nation has also been borrowing from Russia and India, but to a lesser degree.

The government will borrow $878.2 million from China's Exim Bank and 1.508 billion yuan ($237.35 million) under a Chinese government concessional loan for the second phase of a port in the southern town of Hambantota and the extension of a southern railway line.
The $878.2 million is provided under a preferential buyers credit facility at an interest rate of 2 percent, management fee of 0.5 percent and an annual commitment fee of 0.5 percent with a repayment period of 20 years including a seven year grace period, according to a cabinet memorandums on the loan, seen by Reuters.
China has lent $400 million for the first phase of Hambantota port and its Exim Bank has lent $77 million for an oil bunkering facility in the same port, which is built in President Mahinda Rajapaksa's electoral constituency. China was Sri Lanka's largest lender in 2009 and 2010, supplying $1.2 billion and $821 million respectively. In 2009, that figure accounted for 54 percent of Sri Lanka's total foreign loans, and 25 percent in 2010