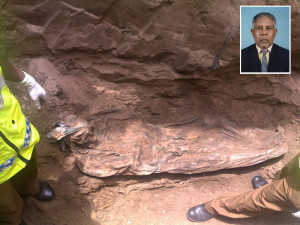 Pattani Razeek and remains found buried under a half built house in Valaichenai.
Asian Forum for Human Rights and Development (FORUM-ASIA), a regional human rights group representing 47 human rights organizations from 16 Asian countries including Sri Lanka, has expressed its deep frustration in a statement issued to mark the three years of the abduction and killing of human rights defender Pattani Razeek.

Pattani Razeek, who was the Managing Trustee of the Community Trust Fund (CTF), Sri Lanka and represented CTF in the executive committee of FORUM-ASIA, got disappeared on 11 February 2010. After much delay in the investigation, his body was only found and exhumed on 29 July 2011 by the police in Kavathamunai, Oddamavadi, Valaichenai. Furthermore, CTF has been taken over by the Ministry of Defense after the abduction and killing of Razeek.
"The development we have seen so far in this case is that, both key suspects have been released on bail, family members and lawyer have not been given access to the post-mortem report and the DNA test report which must have vital information on the truth behind his murder", said Sayeed Ahmad, Country Program Manager of FORUM-ASIA.
After the exhumation of Razeek's body, the post-mortem was completed on 2 August 2011 and the body was released to the family on the same day. Samples of Razeek's teeth, skin, hair, etc. were taken by the Colombo Crimes Division and sent to the Gene Tech lab for DNA testing on 4 August 2011. Subsequently, Razeek's son, Riskhan supplied a blood sample to the Gene Tech Lab on 8 August 2011. Stomach samples from Razeek's body were also sent to the Government Analyst on 5 August 2011.
"There have been continuous demands from Razeek's family and human rights groups inside and outside Sri Lanka for the arrest and interrogation of those who are linked to this heinous abduction and killing. While the campaigns for justice by family members and other local community leaders were subject to threats and intimidation, Razeek's family had cooperated fully with authorities at all times. Yet, no progress has been made in the investigation, which only reflect little commitment from the Sri Lankan authorities in addressing impunity of serious human rights abuses especially when it is politically-linked." said Sayeed.
In its earlier press statement on 31 July 2012, FORUM-ASIA expressed fear that the release of the key suspects would lead to interference of the evidence and witnesses. "Our call for thorough investigation against Irshard, the Parliamentary Secretary to Minister Rishard Bathiudeen, who stated publicly in October 2010 that Razeek was held by the Ministry of Defense, those persons who were traveling with another key suspect Musdeen in the vehicle that abducted Razeek, and the persons traveling with suspect Nowshaadh who admitted to having met with Razeek in Polonnaruwa on the day that Razeek was disappeared, has not been paid due attention to", added Sayeed.

FORUM-ASIA time and again reiterated its call for an effective and impartial investigation against all suspects and the possible involvement of Minister Bathiudeen as the key suspect Nowshaadh had revealed that on the day that he met Razeek before his disappearance and that he was traveling together with several others in a vehicle belonging to the Resettlement Ministry, of which Bathiudeen was the Minister during the time Razeek was abducted.

For further inquiries, please contact:
Mr. Sayeed Ahmad, Country Program Manager, +66842176150, [email protected]
Photo courtesy Colombo Telegraph