Image courtesy of US Today.
By Vyshnavy Velrajh.
(Colombo Gazette) Drones will be deployed to monitor movements in areas under lockdown in the country due to the coronavirus pandemic.
Police Spokesman Deputy Inspector General (DIG) Ajith Rohana said that drones will be deployed from today (12).
DIG Ajith Rohana further said that stern action will be taken against those who violate lockdown restrictions.
Wowww…. manhunt for those who left the Western Province….drones to monitor lockdown areas….i think the war on Covid has turned into war on the public #warmentality #drone #lockdown https://t.co/yCMhT5nrFi

— Easwaran Rutnam (@easwaranrutnam) November 12, 2020
When inquired in this regard, Air Force Spokesman Group Captain Dushantha Wijesinghe told Colombo Gazette that six to nine drones will be utilized depending on the requirements of the areas under lockdown.
Three Air Force teams have also been appointed, while one helicopter has been allocated for the operation.
The three Air Force teams will work together with the Department of Police, which will draw necessary decisions and issue instructions pertaining to the operation.
Group Captain Wijesinghe said that the Air Force team will capture and monitor video footage, which will thereafter be handed over to the Police Department.
The Military established a new Drone Regiment today to manage the special process to monitor movements in areas under lockdown.
Commenting on the establishment of the Drone Regiment, Commander of the Army Lieutenant General Shavendra Silva told Colombo Gazette that the Regiment will be involved in the special operation announced to monitor violations of restrictions in lockdown areas.
The number of drones to be used will be decided depending on the requirement of areas under lockdown.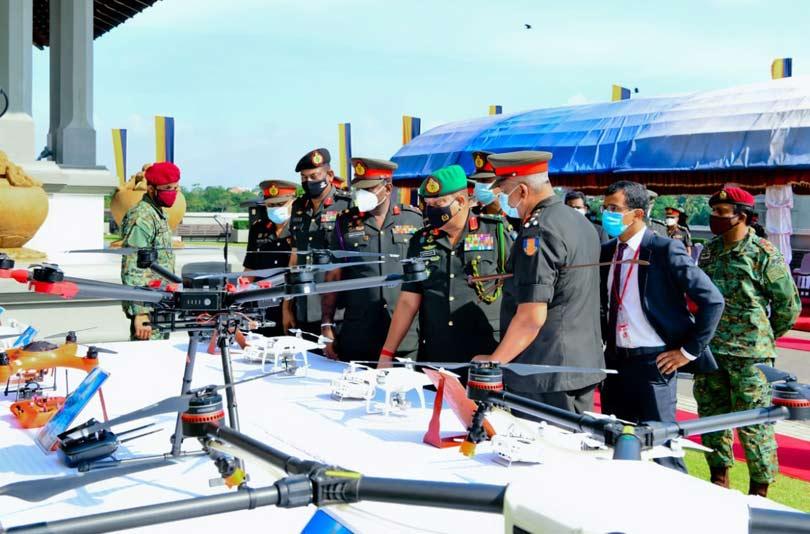 Lieutenant General Shavendra Silva said the Regiment was established as the Military must be prepared to face any calamity in the country, and requires real time information for this purpose.
Stating that the new Drone Regiment is a step towards the future and a long term project, he said the Military will be receiving more sophisticated equipment in another 03-months or more.
When inquired if the deployment of drones was a violation of privacy, the Army Commander assured it was not a violation, as the drones will be deployed outside and not inside any individual's residence.
Meanwhile, a manhunt was also launched for residents who left the Western Province today after an order was issued last night banning anyone from leaving or entering the area.
Police Spokesman DIG Ajith Rohana said that area Police officers in all the provinces, expect the Western Province, have been deployed for this purposes. (Colombo Gazette)
Meanwhile Social media researcher Sanjana Hattotuwa @sanjanah these "Drones used look like @DJIGlobal's industrial grade Matrice 300 RTK platform. So clearly #China has a hand. "
See below his tweets:
Drones used look like @DJIGlobal's industrial grade Matrice 300 RTK platform. So clearly #China has a hand. 15km radius w/ 55 minute endurance https://t.co/ldQroZmcHA SAR capabilities will be used in #SriLanka for population #surveillance. See 'PinPoint' feature of drone.

— Sanjana Hattotuwa (@sanjanah) November 12, 2020
The platform featured in @adaderana video seems outfitted with Zenmuse H20 cameras https://t.co/ba8h46yusG with thermal imaging/night vision capabilities. No joke. Chilling prospect to have this flying overhead. #Privacy? Ethics? Data retention? Legal framework? pic.twitter.com/ZmM7oZlojm

— Sanjana Hattotuwa (@sanjanah) November 12, 2020