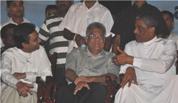 By Dr. Kumar David
Why did President Mahinda Rajapakse, this week, release on presidential pardon, his arch rival and supposed war hero General Sarath Fonseka (SF), imprisoned by a military tribunal in a process which most perceive as a kangaroo court, and on charges that carry little credence in the public mind?
Questions of miscarriage of justice to one side, this column will examine a few theories in circulation in Colombo about this turn of events.
The straightforward explanation is that SF is quite ill and it would be politically problematic if he died in custody. If this were to happen rumours that the government had eliminated him would be impossible to scotch. Fear of state sponsored abduction and assassination is abundant in Lanka since the middle of the President's first term in office, but till recently have remained allegations with no hard smoking-gun proof. The abduction, and subsequent release from illegal detention in a clandestine location, upon the intervention of the Australian High Commissioner, of a Frontline Socialist Party (New-JVP) leader a few weeks ago, blew the regime's cover sky high. The point is that the government's credibility has evaporated, and even if SF died in custody of natural causes, the government will be denied the benefit of the doubt in the public mind.
Sri Lanka

Sri Lanka
Though the Rajapakses are probably not aware of it, events last week in Chile show how long the posthumous arm of the law can be. Nobel Prize winning Pablo Neruda, Chile's most famous poet, was allegedly murdered in a clinic by Pinochet contracted doctors one week after the 1973 coup. Other Pinochet opponents have also been murdered at this clinic in the same way – a doctor walks in when no one is around and quickly administers an unexplained injection to the stomach. At least one such allegation was held up by a court of inquiry. After nearly thirty years, the Chilean justice system reopened the Neruda case last week. It is no good having high profile political prisoners and prisoners of conscience dying on your hands, even if you don't bump them off!
A second and less plausible theory doing the rounds in Lanka is that it was because of American pressure. (It is not clear to me why Washington is so interested in the case; he is of little use to the Americans). But observe I said less plausible, not implausible. After the battering at the UNHRC in Geneva in March, Colombo is wary of having its nose further bloodied by Washington – External Affairs Minister Peries was on his knees before Hilary Clinton in Washington last week and was instructed to give assurances on may matters including SF''s release. A combination of SF''s poor health theory with the Washington pressure theory sounds plausible.
Political machinations
This is the thesis that Colombo circles find most persuasive, and I am willing to go along. The theory is about President Rajapakse's political calculations for say the next 12 to 18 months. It goes like this: Rajapakse knows that the popularity of his presidency and government are fast declining (economic problems, plummeting law, order and judicial independence, high-level links with drug lords, and ever more unyielding Tamils) and he has to make some political decisions. He is toying with the prospect of parliamentary elections in, say 2013, both as a distraction from mounting pressures and to secure a parliamentary mandate which will extend beyond his presidential re-election due 2015 earliest, 2016 latest. Having parliament in his pocket will make for a stronger presidential candidate, while simultaneous presidential and parliamentary elections, the latest date for both is 2016, would make the government vulnerable.
Now what has SF's release got to do with this? Well SF's faction is allied with the anti Ranil Wickremesinghe wing of the UNP. One person who develops this thesis in fair detail is journalist Kusal Perera in the website Groundviews – www.groundviews .org and I quote from his 20 May article "Reloading General Sarath Fonseka for a post-paid Sinhala package" – quite a mouthful, who said brevity was the soul of wit!. (DNA stands for Democratic National Alliance, the outfit that nominated SF for the 2010 presidential poll in alliance with UNP and JVP support. Sajith is ex-president Premadasa's son and leads the dissident racist wing of the UNP. Karu Jayasuriya is a senior UNPer, well known for bed hopping from cabinet post to cabinet post in UNP and Rajapakse governments).
"It's such a Fonseka who would be coming out, thanks to President Rajapaksa. Thereafter with all the UNP dissidents brought around Fonseka, for a ride on a Sinhala campaign, Rajapaksa will be trying out a new DNA led by Fonseka, Sajith Premadasa and Karu Jayasuriya to deprive Wickramasinghe from gaining the disgruntled and disgusted Southern votes going away from him."
Perera's analysis is that a factional intervention of this nature, with SF at the helm, may wean away part of the UNP vote, maybe too little to do itself any good, but enough to despoil UNP electoral prospects, and let Rajapakse's UPFA slip through. I don't find this part of the analysis convincing (I have already said that it is plausible that such is the thinking of the Rajapakse siblings, but what I am now suggesting is that these calculations are likely go wrong). It remains to be seen whether SF is quite such a fool as to turn himself into a doormat for a Rajapakse victory, and second, the expectation of making a dent in the UNP vote hangs on mounting a racist challenge and painting it as soft on the Tamils. The first requirement – well is SF such an ass? I think not. The second requirement, splitting the now residual core UNP vote with a race-card, is also unlikely as this would mean that Sajith and Karu will have to cut their umbilical cord to the mother party in perpetuity.
These speculations are running rather too far ahead. Let us wait and see how relations between SF and the centre-left opposition alliance congealing around Wickremesinghe's UNP – including the TNA, Mano Ganesan and some small left parties – unfolds in the next few months. There are two facts at hand already. SF's fighting statement to a throng of well-wishers gathered outside the prison to greet him suggests that he intends to go after President Rajapakse's jugular. He vowed "to work for the people even at the risk of being 'hanged by the government'. He said he would never forget the masses and their sacrifices during his imprisonment for two and a half years". He made reference to the injustice done to him and said he would fight for rights and salute those who had stood by him. It seems Rajapakse, not Wickremesinghe, is his chosen enemy.
Another intriguing controversy is that one national daily, the Island, reported on 22 May that "though the government released General Sarath Fonseka, it has not restored his rights to vote or contest future elections, despite claims to the contrary attributed to the Attorney General. Well informed sources told The Island last night that President Mahinda Rajapaksa had only remitted Gen. Fonseka's sentence".
A second national daily, the Daily Mirror, reported on the same day that "Elections Commissioner Dayananada Dissanayaka released a statement a short while ago stating that a candidate need not be a registered voter nor cast his vote in order to be eligible to run for office and thereby Sarath Fonseka is eligible to run for the (any?) post".
Clearly the two newspapers are revealing their own biases but it is possible the matter of preventing SF from running in the next presidential election will end up in the courts. If incumbent Rajapakse attempts to obstruct his competitor, he will provoke a backlash, but with his popularity sinking by the day, what are his options?
EA