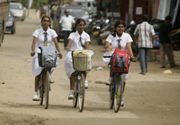 Jaffna
End of three-decades long civil war in Sri Lanka three years ago has propelled the country to experience the greatest improvement in overall peacefulness, according to the 2012 Global Peace Index (GPI) released today. The Institute for Economics and Peace (IEP) which produces the Global Peace Index said the world has become slightly more peaceful in the last year reversing a two-year trend.

Sri Lanka's GPI score experienced the largest year-on-year improvement of the 158 nations surveyed and it climbed 27 places to a still-low 103rd position overall and 17th in the Asia Pacific region ahead of India (142) and Pakistan (149).
The GPI produced for the sixth year ranks 158 nations using 23 qualitative and quantitative indicators which gauge ongoing domestic and international conflict, safety and security in society and militarization.
Sri Lanka joined Philippines, Zimbabwe, Bhutan and Guyana to be the top 5 countries that registered "improvements in peacefulness".
Sri Lanka's score improved markedly for the second successive year in the aftermath of the defeat of the Tamil Tigers and the ending of two decades of civil war in May 2009, the IEP says in its report.
According to the analysis of results, the GPI indicator of the number of deaths from organised (internal) conflict fell sharply in response to the fact that there were no casualties in 2010, compared with 15,565 in 2009. There were related declines in the homicide rate, the frequency of terrorist acts and the Political Terror Scale.
The IEP notes that in August 2011 the Sri Lankan President, Mahinda Rajapaksa, announced the lifting of the state of emergency imposed since 1963 to confront the threat from Tamil Separatists.
"The level of internal conflict nevertheless remains "moderate", reflecting signs of intermittent violence and reports of continued abductions and disappearances, including two cases in the northern city of Jaffna in December 2011," the report says.
Military expenditure has declined in 2011 as a proportion of GDP amid pressures to cut the country's deficit but the IEP predicts a possible rise in defence spending in 2012, justified by security officials to repay loans on military hardware acquired to fight the Tamil Tigers.
The overall score of the Asia Pacific regions is improved by the largest extent from last year and included three of the top five risers, Sri Lanka, Philippines and Bhutan.
Iceland is the most peaceful country for the second successive year and Denmark, New Zealand Canada and Japan round up the top five most peaceful countries in the GPI.
DR Congo, Sudan Afghanistan and Somalia at the bottom of the list are rated as "least at peace" by the Institute.
CP