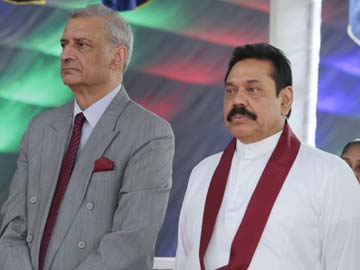 Sri Lanka Tamils protest land grab ahead of Commonwealth meet
Kamalesh Sharma (L) and President
Rajapakse (R)attending the Commonwealth
People's Forum 2013, AFP Photo
Colombo:
Ethnic Tamils staged a rare protest in northern Sri Lanka on Tuesday against the military's refusal to hand back land after the war, as Colombo prepared to host this week's Commonwealth summit.
Several hundred Tamils demonstrated in the former northern war zone of Jaffna, 400 kilometres (250 miles) north of Colombo, even though organisers received telephone death threats beforehand against the move, a local Tamil politician said.
Sugirthan Somasundaram said the heads of two slaughtered cows were also thrown into his home and that of another organiser on Sunday, along with a written warning not to go ahead with the protest.
The Tamils are demanding the military dismantle its "high security zone" in Jaffna which would allow them to return to their homes inside the specially designated area.
The Tamils held a peaceful protest on the edge of the zone, which they said had become unnecessary since the end of the conflict four years ago with the defeat of Tamil separatist rebels.
"We still have 30,000 people who are not in their original homes because the military is occupying their lands," Somasundaram told AFP by telephone. "We want our land back."
Protests, especially by minority Tamils, are rare in Sri Lanka under President Mahinda Rajapakse's government.
Somasundaram said the Tamils would continue the protest throughout the Commonwealth Heads of Government Meeting (CHOGM) starting on Friday. The leaders of Canada and India have boycotted the summit over Colombo's human rights record.
British Prime Minister David Cameron has said he will attend CHOGM but pledged to push for an international investigation into allegations of war crimes by troops against civilians during the war that ended in 2009.
Cameron is due to tour the Jaffna peninsula during CHOGM, which would make him the first foreign head of state to visit the capital of the war-battered north since Sri Lanka was granted independence from Britain in 1948.
Suresh Premachandran, a Tamil lawmaker from Jaffna, said Cameron's scheduled visit could send a strong message to the government to end alleged rights abuses against Tamils, who are a minority in the Sinhalese-majority island.
The international community including neighbouring India has pressed Sri Lankan authorities to demilitarise the Jaffna peninsula, but Colombo has refused to pull out troops.
Security forces have maintained they need to secure strategic bases in the area and say they are occupying the minimum amount of land needed to maintain security.