Tamils gathered across North and East of SriLanka for Federal Model Power Sharing: Recalling the first year of the 100 Days Activism.
Minority Tamils in all eight districts of Northern and Eastern provinces of SriLanka  came to streets and demanded for a federal model powersharing for North and East.
On 1st of August 2022, 100 Days of Activism for power sharing was launched and Tamil people along with civil societies carried out public campaigns rotationally in 100 locations of all eight district of North and East. On the 100th day a people's declaration was openly read and called the international community including India to assist SriLankan government to ensure a federal democracy in SriLanka.
The 13th Amendment to the Constitution was introduced by Indo Lanka Pact without the participation or consent of the North East Tamil people. Further 36 years have been passed since the said Amendment was introduced . During this 36 years period Tamil people have been subjected a 30years long brutal war, continuous displacements , enforced disappearances, massacres , war crimes and genocide. Still state sponsored atrocities are continuing in North and East. Land grabbing and Buddhisization increases. Militarization continues. State sponsored threats and intimidation against civil society activists, human rights defenders and ordinary general public intensifies.
As a 'people ' of North and East, Tamils identified themselves as a nation that have inalienable rights for self determination. They openly and clearly stated that they do not want  to exercise their self determination rights for secession. They particularly demand for a dignified and righteous political power to North and East.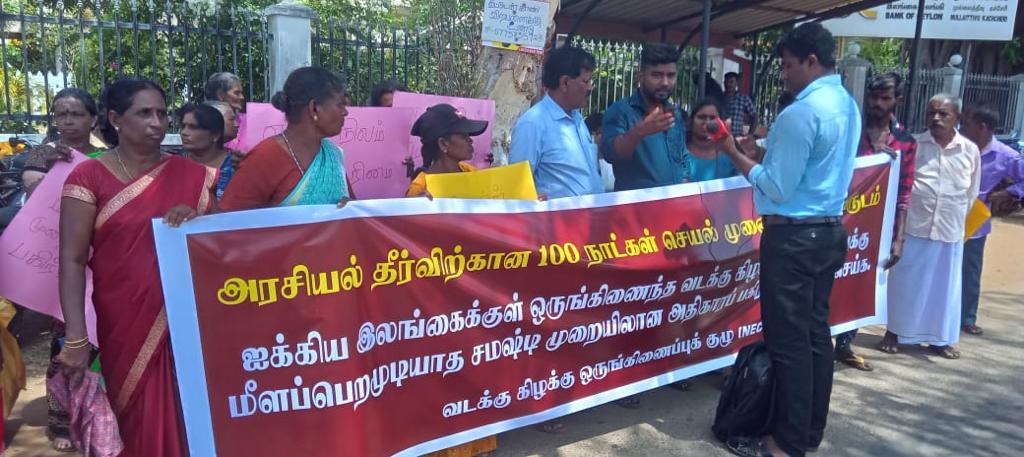 Along with Tamil people ,civil societies and Tamil political parties are demanding in one voice for a non withdrawable  federal model power sharing  for merged North Eastern Province.
Courtesy : North-East Coordinating Committee ((NECC)