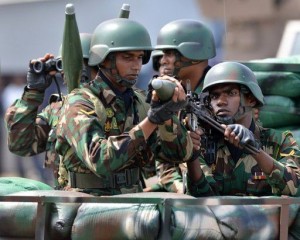 AFP/Ishara S.Kodikara – Sri Lankan soldiers hold a Victory Day parade in Colombo, on May 18, 2013.
Sri Lanka's main opposition Tamil party Saturday defied a military ban and staged a commemoration of their war dead as the government celebrated the fourth anniversary of defeating Tamil Tiger rebels.
The Tamil National Alliance (TNA) said it staged the remembrance in the northern town of Vavuniya for those who died in the final battle which also killed Tamil Tiger leader Velupillai Prabhakaran and his entire top leadership.
"We had a meeting to commemorate all those who died in the conflict," TNA lawmaker Suresh Premachandran told AFP from Vavuniya, 260 kilometres (162 miles) north of Colombo.
The event came as Sri Lankan troops held a parades in the capital to mark the victory over Tamil Tiger rebels and an end to 37 years of ethnic bloodshed.
The state-run Daily News said the Vavuniya meeting was illegal and warned anyone commemorating the defeated Liberation Tigers of Tamil Eelam (LTTE) would be jailed.
Witnesses said the TNA-led ceremony ended peacefully amid a heavy police presence in the area, a front-line town near the former war zone in the island's north.
In the capital Colombo, President Mahinda Rajapakse viewed the military parade showcasing heavy weapons used against the Tigers who were known for their ferocious suicide bomb attacks
AFP