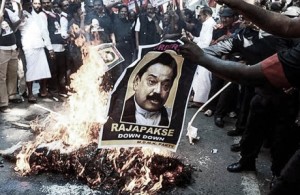 Protest in India spreading
Tamil Nadu Chief Minister J. Jayalalithaa Friday blamed Prime Minister Manmohan Singh for the watered down US resolution at the UN Human Rights Council (UNHRC) against Sri Lanka last year.
Replying to a debate in the assembly, she said: "Last year, the US brought a strong resolution against Sri Lanka. The Indian government voted in favour of the resolution at my continued insistence."

In support of her charge, Jayalalithaa said Manmohan Singh wrote to Sri Lankan President Mahinda Rajapaksa later: "You … would be aware that we spared no effort and were successful in introducing an element of balance in the language of the resolution."
She said while the Sri Lankan government did not take any action even on the "watered down resolution, there is information that the US is bringing another resolution" against the island nation this year.
In the interests of Sri Lankan Tamils, the Indian government, based on the resolution passed by state assembly, should table a resolution on Sri Lanka at the UN and get it passed, Jayalalithaa added.
Blasting the "careless attitude" of the Indian government vis-a-vis Indian fishermen who she said were attacked by the Sri Lankan Navy, she urged the central government to take up the issue with Colombo.
INAS
Rajapaksa visit: Vaiko held in Delhi, Karunanidhi leads protests in Chennai
ADMK chief Vaiko and his supporters were today detained when they tried to march towards the Prime Minister's residence in protest against the visit of Sri Lankan President Mahinda Rajapaksa to the country.
Vaiko and scores of his supporters have been protesting at Jantar Mantar here since morning demanding that India close down the Sri Lankan High Commission in the capital.
"We will not forgive the Manmohan Singh government for supporting Sri Lanka in its war against Tamils," Vaiko said, addressing his supporters.
Later, Vaiko along with his cadre tried marching towards the residence of Prime Minister in Race Course Road but were stopped near Parliament Street Police Station.
However, when Vaiko tried to break the barricade, he was detained.
At the protest, the MDMK cadre shouted slogans against Rajapaksa's visit and burnt his effigy.

Rajapaksa annihilating Tamils: Karunanidhi
DMK chief M Karunanidhi today led a state-wide protest here against the visit of Sri Lankan President Mahinda Rajapaksa to India, accusing him of making efforts to 'annihilate' Tamils in the island republic.
Wearing black shirts, the protesters gathered under the banner of the Tamil Eelam Supporters Organisation, which Karunanidhi had revived some months ago, and shouted slogans against Rajapaksa, who is on a pilgrimage to Tirupati and Bodh Gaya.
Karunanidhi charged the Lankan President with attempting to not only to 'annihilate' the Tamil population but also erase the Tamil language.
Party Treasurer M K Stalin and other senior party leaders were present.
Effigies of Rajapaksa were burnt and lawyers boycotted courts in some parts of the state, protesting the visit.
Karunanidhi had said yesterday that the Centre should realise at least now that the island government was not keeping its promises after the Sri Lankan President had ruled out autonomy for Tamil areas.
"Rajapaksa should correct himself, and Centre should also take steps to protect Tamils," Karunanidhi had said.
Addressing the 65th Independence Day celebrations on Monday, the Lankan President had ruled out greater political autonomy for Tamils, saying ethnicity-based division was "not practical" as people live together in unity and there were no racial or religious differences
IE