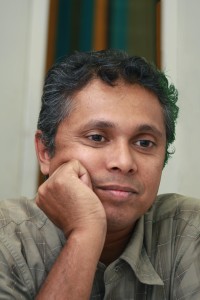 Mr Nirmal Dewasiri

Since 19 June 2012, human rights defender and Teachers Union leader Dr Nirmal Dewasiri has been subjected to surveillance and intimidation.
Nirmal Dewasiri is the President of the Federation of University Teachers Unions (FUTA) and the Secretary of the Arts Faculty Teachers' Association of the University of Colombo (AFTU-CU). He has been active in campaigning for better working conditions for university teachers, including calling for pay increases and against the privatisation of university education.

On 19 June, from around 4 to 7pm, two men who identified themselves as members of the Ministry of Defence were seen around Nirmal Dewasiri's home asking his neighbours questions about the human rights defender and his daughter. It is reported that the two men were trying to find out the license plate number of Nirmal Dewasiri's car, which was not parked there at the time.
On 20 June 2012, the wife of Nirmal Dewasiri received a letter directing her to convince her husband to stop his trade union activities. In the evening of that day, an unmarked jeep was witnessed parked near the main road adjacent to their home.
On 22 June 2012, FUTA held a press conference raising concern about the surveillance and intimidation that Nirmal Dewasiri is facing. At around 12.30pm, while Nirmal Dewasiri was on his way to the University of Colombo, he received an anonymous phone call apparently made from a public booth. The person identified himself as one of the men who visited his neighbourhood. He blamed Nirmal Dewasiri for his human rights work and asked him why he was doing this. He further threatened him that if he didn't stop his trade union activities, harms would be done to his family.
Nirmal Dewasiri has filed two complaints to the police following the abovementioned incidents: the complaint (No. CIB 1144/295) regarding the two men who roamed around his neighbourhood was made on 21 June 2012 at Maharagama Police Station and the complaint regarding the threatening phone call (No. CIB 199/235) was made at Kurunduwatta 7 Police Station on 22 June 2012.
Front Line Defenders is concerned for the physical and psychological integrity and security of Nirmal Dewasiri and his family, and views these acts of intimidation as being directly related to his legitimate and peaceful human rights work, in particular his work with the University Teachers Union for the defence of teachers' rights.
FL