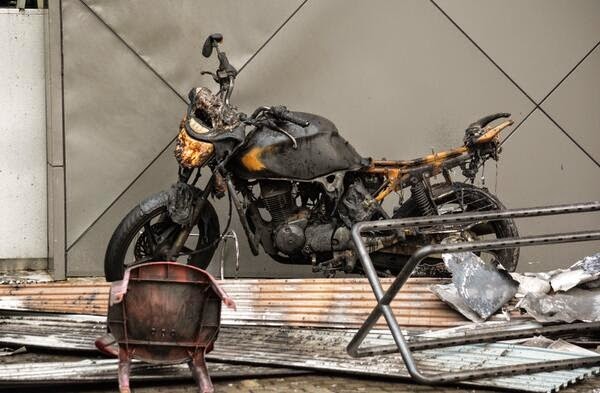 Burned motor bike
According to news reports that have been issued so far regarding the sudden fire that broke out in the No Limit fashion store, the police is currently presuming that the fire has been caused due to an electrical circuit malfunction.
Meanwhile Police have also started recording statements from four personnel who had held a party inside the store premises last night, due to the suspicion whether the fire was caused from a fallen cigarette bud.
A senior official of the No Limit administration stressed that the electrical system of the store did not have any malfunctioning. He also said that the institution is willing to hold a thorough investigation by using an electrical specialist if such accusations are made.
Four store official had been posted at the store at that time and one of these officials has told a journalist that a petrol bomb attack was made from the back of the store.
And also a motor cycle that had been parked outside the store has also been caught up on fire, which can hardly be a result of an electrical leak or a cigarette bud.