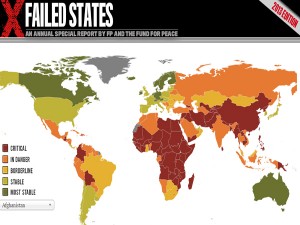 Sri Lanka's ranking among failed states has deteriorated, based on the findings published in the annual Foreign Policy and Fund of Peace report.
The report puts Sri Lanka at 28th position as compared to 29 in the 2012 report. Somalia is the number 1 failed state while Bangladesh and Nepal are better than Sri Lanka with rankings of 29 and 30.

If there is one happy story to emerge from this 2013 index, it is the case of Myanmar, which has gone in short order from international pariah to the darling of global investors, edging its way out of the top 25.
The Fund for Peace is an independent, nonpartisan, 501(c)(3) non-profit research and educational organization that works to prevent violent conflict and promote sustainable security.
It promotes sustainable security through research, training and education, engagement of civil society, building bridges across diverse sectors, and developing innovative technologies and tools for policy makers.
A leader in the conflict assessment and early warning field, the Fund for Peace focuses on the problems of weak and failing states. Its objective is to create practical tools and approaches for conflict mitigation that are useful to decision-makers. (Colombo Gazette)