(SLB) Last week Supreme Court of Sri Lanka heard number of cases filed in relation to  the  Sri Lanka's Right to Information Bill which has been tabled in the parliament.  Earlier   3 petitions were filed against the bill on the ground that right to information will jeopardise the national security. In response to those petitions leading civil society activists filled petitions in defense of the bill.
Supreme Court heard the cases on 08th and 09th of April. Informed sources say that the SC determinationalready has been sent to the speaker of the parliament.
The petitions filed; A summary: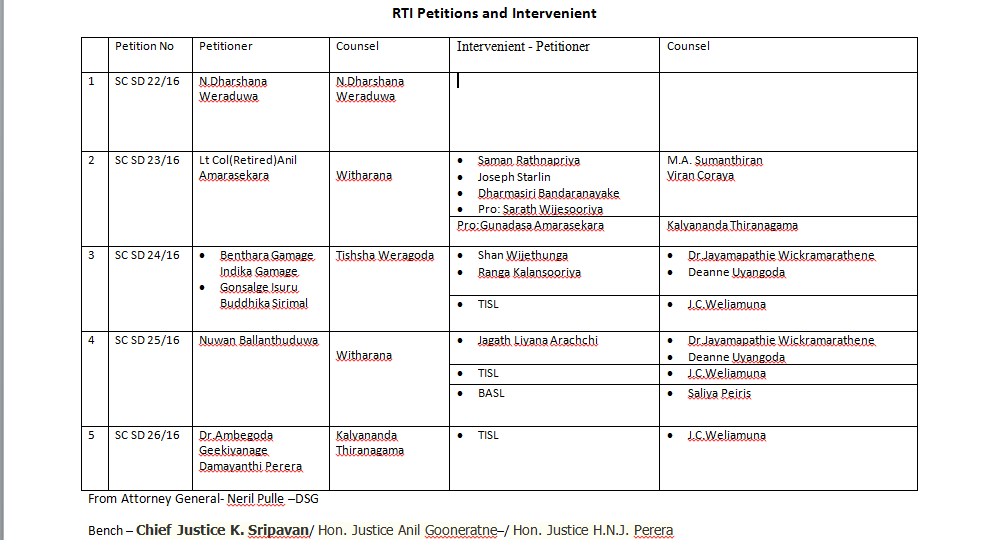 For the record SLB is publishing all the petitions filed in relation to the Sri Lanka's first RTI bill.
Petition on RTI Bill SC SD 23-16 (2)
Pettition on RTI Bill SC SD 25-16
Pettition on RTI bill SC SD 24-16
Petttion on RTI Bill SC SD 26-16 (1)
Petttion on RTI Bill SC SD 26-16