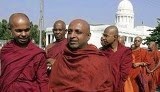 "The police unit established to deal with complaints regarding religious issues will stay," maintained Police Spokesperson SSP Ajith Rohana, refuting the comments made by the Ravana Balaya organization suggesting the possible disbandment of the Police Unit in the near future.The organization led by its General Secretary Ven Ittekande Saddhatissa Thera had also said the unit is now defunct. "The police unit is inactive and is not even receiving any complains," the Thera said.
According to him, the police unit only continues to exist in order to save face of the Police Department and to spare them of further embarrassment.
SSP Ajith Rohana vehemently denied the statement saying that the unit is very much functional. According to him, the new police unit has been able to solve the three major religion related complaints received by them. "The unit was able to solve the issue on the Dambulla mosque which has been ongoing for over 13 years," SSP Rohana said. "We have been able to co-ordinate between all the stakeholders and resolve the issue," he said. Currently, the unit is said to have received 60 complaints up to date.
While Ravana Balaya says a special unit is not needed to solve such a small number of complaints, SSP Rohana says even if the unit receives only one complaint, the special unit is needed to act as a central body to coordinate between the stakeholders. While Ven Saddhatissa Thera has continuously demanded the unit is moved from the Ministry of Buddha Sasana and Religious Affairs saying it will not allow any police unit to continue in the ministry premises. However, SSP Ajith Rohana said "Police unit will not be shut down and will stay
By Maneshka Borham