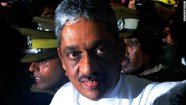 The former Sri Lankan army chief, Sarath Fonseka, who had spent nearly two years in prison after running a failed campaign for president, was freed on Monday. His release came as the Sri Lankan government has been increasingly criticized for trampling on civil liberties and human rights.

Sri Lankan television showed General Fonseka leaving prison on Monday afternoon as a jubilant crowd greeted him with firecrackers and cheers. President Mahinda Rajapaksa, who had jailed the general in 2010, signed an order last week pardoning him from serving the remainder of his sentence.
The general's political future remains uncertain, however, since the convictions against him remained intact.
"I will sacrifice my life to serve the people of this country," General Fonseka told the crowd that greeted him in Colombo, the capital, The Associated Press reported. "My courage will not be shattered even if they detain me for 10 years."
His release came three days after Sri Lanka's foreign minister met in Washington with Secretary of State Hillary Rodham Clinton, with human rights among the subjects discussed. The Obama administration had designated General Fonseka as a political prisoner and had also backed a resolution passed in March by a United Nations panel that called on the Sri Lankan government to investigate the deaths of thousands of civilians at the end of the country's long civil war in 2009.
Sri Lanka's government has come under international criticism for curtailing civil liberties, including freedom of the press, and for not yet meeting pledges to pursue reconciliation between ethnic Tamils and Sinhalese after the bloody and divisive ethnic conflict that lasted more than a quarter century. Eager to avoid international condemnation, Sri Lankan officials made a furious — but ultimately failed — effort to prevent the United Nations panel vote in March.
Bandula Jayasekara, a presidential spokesman, denied that General Fonseka's release represented a concession to international pressure. Speaking by telephone from Qatar, where the Sri Lankan president is making an official visit, Mr. Jayasekara said negotiations with the general's political party had been going on for six months.
"This has got nothing to do with international and national pressure," Mr. Jayasekara said, adding that any human rights criticism of Sri Lanka was unfounded. "People have peace after 26 years of terrorism. The world should be happy about it."
General Fonseka is regarded as a war hero among many Sinhalese in Sri Lanka and is credited with leading the bloody assault that finished off the Tamil Tiger insurgency. In 2010, the general unexpectedly mounted a campaign against Mr. Rajapaksa, earning the support of a disparate coalition of opposition parties.
The general had promised to curtail the powers of the presidency and also fight corruption amid allegations of cronyism against Mr. Rajapaksa and his family. The general won 40 percent of the vote and was jailed not long after the election. He was court-martialed and sentenced to 30 months, then later convicted of separate criminal charges and sentenced to three years — convictions his supporters regarded as politically motivated.
Some analysts speculated that the president, in pardoning General Fonseka, could actually strengthen his own political position by dividing the opposition.
Tiran Alles, who spent the last five months working on the general's release, said the terms of the pardon would prevent General Fonseka from returning to his seat in Parliament or from running for office. Mr. Alles said supporters would continue to push the government to fully restore General Fonseka's political rights but that, in the interim, the general would still play a major political role.
"He can campaign, he can lead the party," Mr. Alles said in a telephone interview. "He can do everything. But we'll see how it goes."
Mr. Alles said the general's supporters were rejoicing across Sri Lanka. "The whole country was against his arrest," he said. "They were waiting for this moment. That is why everybody is celebrating all over the country."

By JIM YARDLEY
NYT