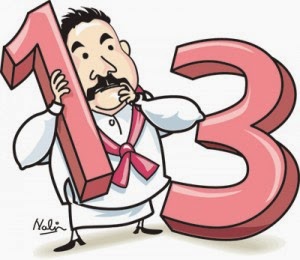 Govt. sticks to PSC despite Indian pressure; . ready to cooperate with India in all fields except internal issues
Close on the heels of a meeting between newly elected Indian Prime Minister Narendra Modi and President Mahinda Rajapaksa in New Delhi, where the former called for early and full implementation of the 13th Amendment and to go beyond, the government yesterday said that it was only the Parliamentary Select Committee (PSC) that could decide on the matter.
Addressing a media conference at the Sri Lanka Freedom Party head office, Irrigation and Water Resources Development Minister Nimal Siripala de Silva said that the government would cooperate with India always but no one should interfere with the internal affairs of the country.
The Minister said that the 13th Amendment to the Constitution had been forced on the country during the J. R. Jayewardene administration, but the present administration had appointed a PSC to review it before its full implementation.
The 13th Amendment had been implemented step by step but there were some sections which needed parliamentary review, he said.
"President Mahinda Rajapksa's position is that a solution to the issue should be evolved only through the PSC," Minister de Silva said.
Minister de Silva said, however, the Sri Lankan government did not intend to confront India and it wished to sort out all issues through negotiations.
As head of the PSC, the minister said that the UNP, the Tamil National Alliance and the JVP had not attended the PSC so far. He invited them to join the PSC at least now.
Responding to a query regarding Tamil Nadu pressure on the Indian Central government on the Sri Lanka issue, the Minister said that the BJP had an absolute majority and it would not have to dance to the tune of TN.
"We also deal only with the Central government and not with state administrations of India," he said.
Monitoring MP of the Foreign Ministry Sajin de Vass Gunawardena, who met Indian Premier with the President Rajapaksa, said that the new Prime Minister had highlighted during the discussion between the two leaders that countries of the SAARC region would go to the world forum with a common theme always. "It was a good idea of new PM Modi," he added.
SLFP General Secretary and Health Minister Maithripala Sirisena, Youth Affairs and Skills Development Minister Dullas Alahapperuma also addressed the conference.
By Dasun Edirisinghe
IS