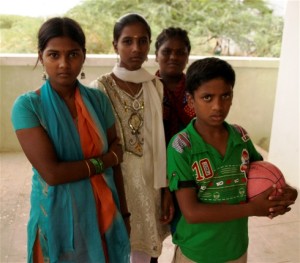 Amelia Shepherd-Smith/IRIN
There are more than 100,000 Sri Lankan refugees in India
TAMIL NADU, 4 September 2012 (IRIN) – More than three years after the end of Sri Lanka's 1983-2009 civil war, most Sri Lankan refugees in India say they would rather not return, citing economic hardship and concern over human rights abuses.

According to Indian government figures, there are more than 100,000 ethnic Tamil Sri Lankans in the southern Indian state of Tamil Nadu, including 68,000 in 112 government-run camps and 32,000 outside the camps.

"My relatives who have returned say `Don't come. 'There aren't any jobs and the cost of living is too high'," 46-year-old Sivabalan Palaniyandi* from Gummidipoondi, an industrial town 40km north of Chennai, the capital city of Tamil Nadu State at the extreme southern tip of India, told IRIN.

Others cite reports of ongoing alleged human rights abuses in the north, and mention the government's inability to account for thousands of people still missing in the aftermath of the war which left tens of thousands dead, according to the UN.

The Working Group on Enforced or Involuntary Disappearances of the UN Office for the High Commissioner for Human Rights has recorded more than 5,000 reported cases of wartime-related disappearance in the country, not counting those who went missing in the final stages of the conflict from 2008 to 2009.

"The reason no international NGOs or media are allowed in most Tamil areas is because there are still human rights violations," said Rathi Bathlot*, a 49-year-old resident of Kottapattu camp, 5km from Tamil Nadu's southeastern city of Trichy."We hear of constant intimidation by the military and also violence. We fled a judicial system that failed us and did not allow us our most basic constitutional rights. Nothing has changed," she said.

Yet others have been put off by reports of illegal land-grabbing in former Tamil areas of northern and eastern Sri Lanka.

"My brother went back to check on his property and found that nearly 100 percent of our areas are still under Sinhalese military occupation. He said it was very intimidating," said Dibakar Ramachandan*, a 35-year-old man also from Kottapattu camp.

"My mother went home and came back as a tourist and her children now suffer because they have no local identification papers, so she can't register them in the school," said Konashwari Nishantan*, a 40-year-old woman from the Puzhal camp in Thiruvallur District.

"As long as Sri Lankan Tamil refugees continue to hear stories such as these they will never want to go back," said Thiru Murugan, an official of the May 17 Movement, a Tamil Nadu-based human rights organization.

Few returnees

Such stories may account for the small number of returnees, despite assistance offered by the UN Refugee Agency (UNHCR).

Since the end of the war, little more than 5,000 Sri Lankans have returnedunder a UNHCR-facilitated voluntary repatriation programme, mostly to Trincomalee, Mannar, Vavuniya and Jaffna districts.


In 2011, 1,728 Sri Lankan refugees returned with UNHCR's help after the agency stepped up its assistance package to returnees. However, the numbers are low. In fact, the number of Sri Lankan refugees returning home with UNHCR's help declined during the first half of 2012 compared with the same period in 2011.

"It is difficult to determine why the numbers of refugees returning to Sri Lanka have fallen," said UNHCR representative in Sri Lanka Michael Zwack in June. "It is an individual decision to return home based on individual considerations," he added.

Keeping options open?

For some, maintaining their refugee status at this time may seem more beneficial.

According to Valan Satchithananda, project director for the Adventist Development Relief Agency (ADRA), although some Tamil areas in the north such as Jaffna and Trincomalee are more stable, other areas devastated by the war lack basic infrastructure.

Furthermore, it is estimated that more than half of the refugees in Indian camps were born in India and know little of life back in Sri Lanka. The largest wave of refugees arrived in the camps between 1983 and 1987, with many staying on and having children.

According to aid workers, living conditions in the government-run refugee camps vary from poor to adequate. Some live in thatched huts, others in small cement block houses; water and sanitation are problematic in the more remote camps.

Refugees apply for day release to access free health and education facilities, and informal jobs outside of the camps also allow refugees to supplement a monthly government grant of US$38 per family (two adults and one child).

Though UNHCR does not have access to the camps, four NGOs have been working with the refugees since 2006 and deliver 23 welfare schemes.

Meanwhile, refugees outside the camps do not face travel restrictions but lose out on their grant and access to welfare schemes.

*not a real name

as/ds/cb