To the attention of all Tamil political parties:
 ALL TAMIL POLITICAL PARTIES UNITE TO DEMAND FOR A NON-WITHDRAWABLE FEDERAL MODEL POWER SHARING WITHIN UNITED SRI-LANKA FOR MERGED NORTH EASTERN PROVINCE
We understand that talks on a political solution for the North East minority Tamil  people will be held between the representatives of the minority Tamil political parties and the President of Sri Lanka. We welcome it very much.
However, we insist that these talks should be conducted in a transparent manner, and discussions are to include the long-term political demands and political needs of the Tamil people.
But we regret to inform you that in the current situation, the steps for a political solution among the Tamil political parties have not been carried out in a unanimous transparent manner. Also, we are observing that the information  through the media that only a few representatives belonging to a single Tamil party will participate in these talks related to the political settlement. Also, we point out that there is no mutual transparent discussions or consensus initiatives within the leadership of the said party. This is a criticism put forward by the people who elected these parties through elections.  We regret to inform such actions are seen as an undemocratic trend that would negatively impact the stable political solution for the Tamil people. Therefore, all Tamil political parties must unite and demand in one voice for a non-withdrawable federal model power sharing within united Sri-Lanka for merged North Eastern Province. This is the duty of the representatives of the Tamil political parties elected by the Tamil people through their democratic voting. Therefore, we request you to pay attention to the main demands mentioned bellow and also to other necessary areas: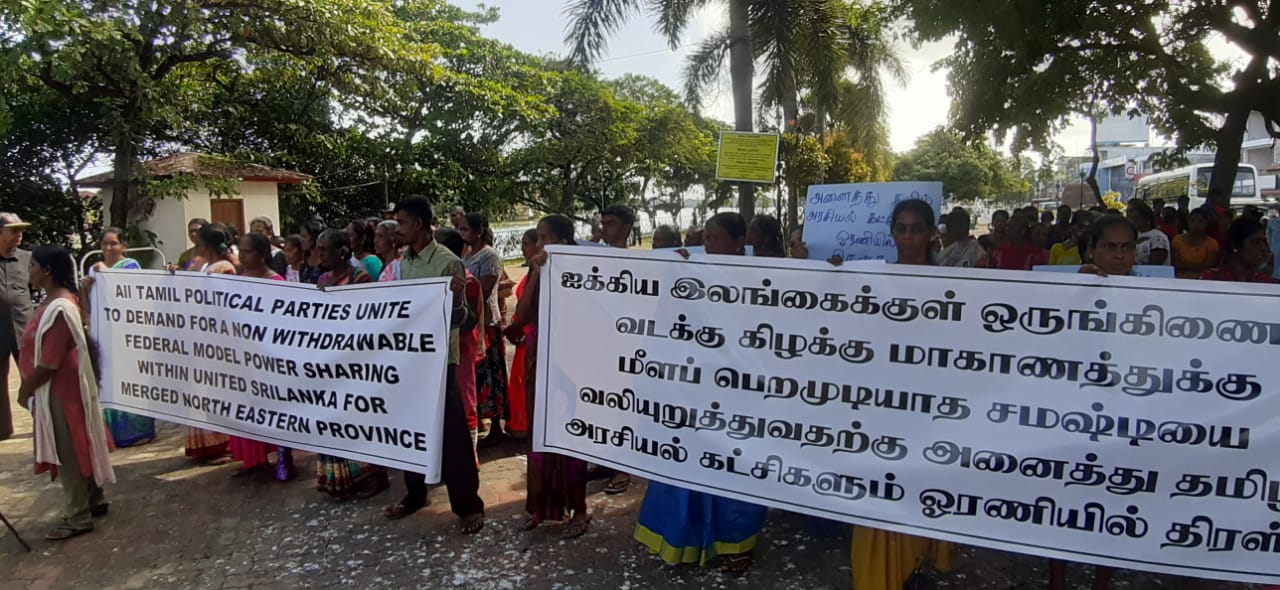 Northern and Eastern provinces must be re merged and North and East must become a single provincial unit
Central government must ensure a non-withdrawable federal model power sharing for merged North Eastern province
The merged North Eastern province must be governed by a people's representative council which would be democratically elected by the people. It should be ensured that women's representation would be 50%
The lands situated within the North Eastern province must come under the control of the governance of the province
The lands situated within the North Eastern province must come under the control of the governance of the province
Totally demilitarize the North East areas and place the military for national security where they were stationed prior to 1983
The religious and cultural places of the Tamil people in the North and East Provinces which were marked as archeological sites should be stopped. The encroachment and destruction should bring to an end.
North-East Coordinating Committee (NECC)
Sri-Lanka
O5 January 2023