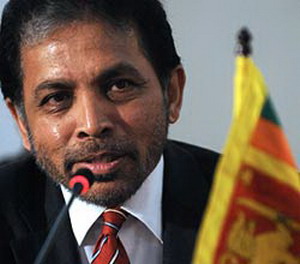 Dr. Palitha T.B. Kohona
"Role of International Criminal Justice in Reconciliation" By Dr. Palitha Kohona, Ambassador and Permanent Representative of Sri Lanka to the United Nations
"International criminal justice, as it is widely understood today, is very much centered on a Western historical and cultural mind set. It pays only lip service to the cultural backgrounds of the much of the world. Accountability, particularly retributive justice, appears to be the first choice, in general, to facilitate reconciliation. There are other paths to this laudable goal. To suggest that there is only way to achieve reconciliation or to advocate a one size fits all approach is to neglect the traditions and experience familiar to the rest of the world."

Mr. President,
I take this opportunity to thank the President of the UN General Assembly for conveying this timely debate on "The Role of international criminal justice in reconciliation". We hope that today's discussion will facilitate a critical examination of the many aspects of the international criminal justice system and its relevance to fostering reconciliation, especially in the multi-dimensional world in which we live. We take the view that the international criminal justice system must undergo further refinement if it is to serve the wider interests of the international community and the goal of reconciliation.
The end of the Second World War witnessed the establishment of international tribunals by the victors to prosecute the vanquished who had violated international criminal norms. These were the Nuremberg and Tokyo Tribunals. The accused before these tribunals stood charged with committing genocide, war crimes and crimes against humanity. It was hoped that punitive action taken through the mechanism of a fair and impartial international criminal justice system would deter future violations of these rules relating to these egregious crimes, put an end to impunity, strengthen the international rule of law and encourage peaceful coexistence among nations. While the idea of punishing those who committed egregious violations of such international criminal norms continued to engage the attention of academics and writers, for a variety of geopolitical reasons, no concrete action to develop it further was taken in the next four decades.
It was also hoped by jurists that a functioning international criminal justice system would complement the transitional justice in countries seeking to foster the rule of law, help to establish the truth of what happened during conflict situations and contribute to reconciliation. Many eminent jurists and legal thinkers, especially in the West, continue to subscribe to this thinking.
Following the conflict in the former Yugoslavia, the United Nations Security Council was responsible for establishing the International Criminal Tribunal for the former Yugoslavia funded by the international community. At the time, it was thought that this mechanism would play a critical role in the United Nations' effort to advance peace and security, and post conflict reconciliation required for sustained social, political and economic development.
Since then, in a surge of enthusiasm other Tribunals were established by the United Nations for Rwanda (The International Criminal Tribunal for Rwanda), Sierra Leone (The Special Court for Sierra Leone) and The Extraordinary Chambers in the Courts of Cambodia and the Special Tribunal for Lebanon. The role played by the UN Security Council in creating these tribunals is central.
Despite the enormous costs incurred, running into billions of dollars, whether all these tribunals have succeeded or fallen short in achieving their goals will continue to be debated. Likewise, discussions will continue on whether they have succeeded in deterring future genocide, war crimes and crimes against humanity. More importantly, one needs to examine whether they have enabled the victims and the perpetrators of grievous crimes to undergo healing and reconciliation. I am particularly conscious of the clear statement made by the distinguished Minister of Justice of Rwanda.
The International Criminal Court was established by treaty in 1997. Although, received with enthusiastic fanfare, many critics have emerged.
International tribunals and other mechanisms, if they are to be of any value, must be established following broad consultations, taking into account ground realities, sensitivities and limitations. As the President's concept note recognizes, externally imposed tribunals are unlikely to succeed in a highly charged domestic environment. A tribunal will not achieve much if it only succeeds in kindling resentment, popular discord and anger. We have heard many voices in this chamber echoing the sentiments of the disenchanted.
Consistent with international law and practice, the responsibility to investigate any alleged violations of global humanitarian and human rights standards must rest with the State itself, in the first instance. In most jurisdictions, breaches of global standards also equate to breaches of criminal law. International criminal justice systems may intervene, if at all, only where national judicial authorities do not, or cannot act themselves. Domestic mechanisms should be given primacy and the time and space to complete their processes. The domestic mechanisms, carry greater legitimacy as they would draw on tradition and accepted practice.
I would also like to suggest that international criminal justice, as it is widely understood today, is very much centered on a Western historical and cultural mind set. It pays only lip service to the cultural backgrounds of the much of the world. Accountability, particularly retributive justice, appears to be the first choice, in general, to facilitate reconciliation. There are other paths to this laudable goal. To suggest that there is only way to achieve reconciliation or to advocate a one size fits all approach is to neglect the traditions and experience familiar to the rest of the world. The process of reconciliation in a country recovering from conflict would necessarily be complex and should take into account the local sensitivities, political pressures and cultural nuances. Conflicts in countries confronting multiple ethnic and religious pressures take time and effort to resolve. Undue pressure exerted by external entities on a limited range of issues will not be helpful in the healing of deep seated scars.
I would like to share the experience of my country in addressing the immense challenges of post conflict reconstruction, rehabilitation and reconciliation after a 27 year long terrorist imposed conflict. The challenges faced are considerable. The government initiated a domestic mechanism to address all aspects of the conflict, including any alleged violations of international standards. The domestic mechanism, the Lessons Learnt and Reconciliation Commission, made over 285 recommendations, including on alleged criminal acts committed during the conflict.
Following this, the Attorney General Department and the military Courts of Inquiry have already undertaken investigations to determine if there were any breaches of military law and the criminal law of the land. I wish to point out that Sri Lanka started its internal mechanism much earlier than comparable situations in other countries. Unfortunately, Excessive external pressure is being piled on Sri Lanka to conclude the process of investigating these allegations to the exclusion of all else even though similar situations in other countries have taken much longer.
Sri Lanka has also taken further significant strides in national reconciliation. Importantly, our culture is not conditioned by an underlying demand for an eye for an eye or a tooth for a tooth for wrongs committed. It is rarely or never that the relatives of victims of a crime attend court hearings in Sri Lanka to demand penalties to achieve justice. Justice is not equated with punishment and revenge. More often than not, a victim would recognise justice in the rehabilitation of the perpetrator of a crime. As the Buddha said 2500 years ago, "Hatred ceaseth not hatred. It is loving kindness that ceases hatred". These are the soothing sentiments that have pervaded our culture for two thousand five hundred years and will continue to influence us. Or as William Shakespeare said on the quality of mercy, "It dropeth as the gentle rain from heaven, Upon the place beneath. It is twice blessed- It blesseth him that gives, and him that takes."
Sri Lanka recognises the complexity of the reconciliation process confronting it with its many ethnic and religious pressures. We recognise that reconciliation is a drawn out process and will not be completed in a few short years. In this process, Sri Lanka has emphasised restorative justice, in keeping with its religio-cultural background and political sensitivities. For example, despite being able to take punitive legal action against many ex-terrorist cadres, including some leaders who surrendered, the State has chosen the option of rehabilitation, and restoration to the community as an integral part of the reconciliation process.
Former terrorist leaders such as Daya Master, George and Kumaran Pathmanathan live in peace and under government protection. Other leaders have joined the democratic mainstream. At no time has the rehabilitation process been used to target ex-combatants or LTTE sympathizers but has been used for their benefit and to ensure their speedy reintegration into society. The vast majority of former LTTE cadres, including child combatants, have been rehabilitated and re-integrated into society. Some have even been absorbed in to the armed forces. Our underlying philosophy is that reconciliation is not about finding culprits to punish but undertaking a process of healing. Politically, the government is exploring options that would reflect the political concerns of all entities.
Consultations among all stakeholders will continue to find lasting solutions acceptable to all. In addition, vast resources have been allocated to rebuild and restore destroyed infrastructure in the former conflict affected areas so that economic life will return to normalcy as quickly as possible. Bridges, railway lines, roads, houses, hospitals, schools, etc. have been rebuilt, livelihood opportunities have been revived, land disputes have received attention and will be resolved through land tribunals, language issues are being addressed, and democracy which had been denied to the people for so long under terrorist domination has been restored. All in the short space of four years. The list goes on and on. But no one expects normalcy to return overnight. It has not happened anywhere else, where the world imposed punitive justice.
We note that the use of the home grown Gacaca mechanism in Rwanda and the Truth and Reconciliation mechanism in South Africa. The effectiveness of these domestic entities in achieving reconciliation needs to be studied.
We hope that the UN approach to accountability and reconciliation will take a much broader view than simply emphasising punitive justice. Other approaches must be respected. Where punitive justice is employed it must operate within a neutral, non-selective and impartial framework. Allegations of sexual and other violations against women and children must be addressed with a view to compensating the victims, restoring them to normalcy and ensuring that the criminal acts will not be repeated. We must establish a process that enables countries to share expertise, knowledge, assistance, analysis, advice, lessons learnt and best practices with a view to strengthening national legal systems. The United Nations must provide leadership in capacity building efforts to aid reconciliation.
Thank you, Mr. President.