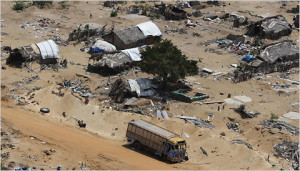 An investigation is underway into a journalist from a television channel who had covered the final stages of the war in 2009 and has later supplied the video material to groups overseas carrying out a campaign against the government.

The army media unit quoted President Mahinda Rajapaksa as saying that the media had unrestricted access to cover the military operations in the north.
" One such media man has now been bought for dollars by vested interests and we know what he has been doing overseas. We knew in advance such atrocities by Diaspora and anti-Sri Lanka elements would be a reality some day. This attack would not surprise us at all. These attacks would not subdue us, either, nor would they defeat or intimidate us in any way," the President said.
He said that those who opposed the war and tried to stall its onward march allege that the government's improper management of foreign relations brought about the current developments in Geneva.
"I must specify that when humanitarian operations were on, we had to put up with more worse foreign influences.
These foreign influences are happening not due to lack of management, but these are the dire needs of several imperialist countries and the Diaspora. As the Vijayabahu Infantry Regiment's motto says any weight is bearable to one who is skilled in vocation and has professional knack. Therefore, this motto is more important to overcome today's challenges. Our tri-service War Heroes with their humane qualities are a blessing to the country. Your humanity, discipline and patience, is well used for the benefit of people with multi-ethnic backgrounds in redeveloping the country. We have been able to rehabilitate tens of thousands of former LTTE combatants. Those entering north and east will witness two wonders; rescue of north and east from terrorism and the difference the troops have made through post-conflict development roles," President Rajapaksa said.
CG